Have you ever found yourself gazing at the night sky, mesmerized by the outlines of airplanes slicing through clouds like swift shadows? Have you ever wondered how you could become a part of that world up there? Suddenly, it hits you. You decide to take flight and embark on an exhilarating journey with the U.S. Air Force.
You ponder aloud, "Where can I find Air Force recruiters near me?" Your eyes continue their dance with the distant blinking lights in the skies above. You crave answers – eligibility requirements, officer programs, and even locating that local recruiting office for a heartfelt conversation about your future. The next step is crucial. It has the power to elevate your dreams or keep them grounded. Are you ready to soar into this thrilling exploration? Fasten your seatbelt; we're about to take off!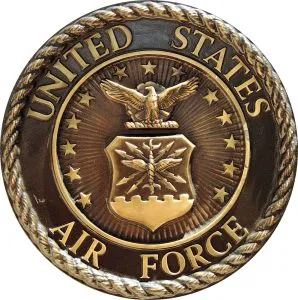 Air Force Recruiters Near Me Table Of Contents:
Decoding the Air Force Recruiting Process
Air Force, renowned globally for its precision and power, recruits over 30,000 people annually. The systematic Air Force recruiting process facilitates the journey from an interested civilian to a proud airman or airwoman.
Air Force Age Requirements
Specific requirements must be met to qualify for enlistment in the U.S. Air Force. Age plays a critical role – you should fall between 17 and 39 years old if you're aiming for enlisted programs, while officer programs allow up till age 34.
Citizenship matters, too; being a U.S. citizen or having permanent residence status is essential. Educational qualifications aren't overlooked – a high school diploma or GED with some college credits is needed.
Gearing Up For Your Encounter With An Air Force Recruiter
Your initial meeting with an Air Force recruiter near you might feel intimidating, but thorough preparation can turn it into an enlightening experience.
An essential part of your groundwork should involve learning about life in service: understanding its values and mission goals and specifics about careers that intrigue you within the force.
Fitness Requirements In Perspective
In addition to mental preparedness and academic prowess, physical fitness stands as another crucial requirement during recruitment. The fitness criteria include passing benchmarks for weight body composition measurements alongside aerobic tests.
Before stepping into the local recruiter's office, ensure your good health will let you participate in basic training activities like running drills, etc., demonstrating commitment towards joining this esteemed institution.
It's worth noting that these prerequisites may seem stringent initially. Still, they're designed solely to ensure only the best candidates get selected – those who'll serve their country with pride and honorably throughout their tenure.
Finally, always remember to ask questions whenever any doubts arise concerning aspects related to enlisting. Recruiters specifically guide prospective members through the complexities involved, so don't hesitate to seek clarification where areas of uncertainty.
Key Takeaway: Enlisting in the U.S. Air Force involves more than simply enrolling; it requires a thorough process. You must meet certain age, citizenship, and education standards. Preparing for your conversation with an Air Force recruiter entails understanding what life in the service is like and ensuring you are physically capable of meeting the requirements. While these standards may initially seem challenging, they exist to ensure that only the most qualified individuals serve our nation. And remember, if you ever have any doubts or questions –
Find an Air Force Recruiter Near Me
When it comes to joining the U.S. Air Force, the third-largest service branch with nearly 330,000 active-duty members, finding a local recruiter is the first step on your journey. Recruiters are indispensable in furnishing details about enlistment, training courses, and job paths within the Air Force. Connecting with a recruiter early on is essential for prospective recruits.
Your First Visit to an Air Force Recruiting Office
Visiting an Air Force recruiting office is more than just a task – it's an opportunity to explore exciting possibilities and potential futures. These offices balance professionalism and approachability, creating an environment where potential recruits like you can ask questions freely and without hesitation.
Recruiters are not just guides through the enrollment process; they are trusted advisors who help candidates make informed decisions about their future careers in air defense and beyond.
To locate your nearest recruitment center quickly, you can use online resources such as Google Maps or military-focused websites that offer tools specifically designed for finding local recruiters nearby.
Prioritize preparation by jotting down any questions or concerns before meeting with your recruiter. This ensures that nothing slips through the cracks during your conversation.
Lastly, be open-minded and willing to understand what life entails within the U.S. Air Force, from boot camp until deployment day.
Requirements to Join the Air Force
If you're considering a career in the United States military, specifically the Air Force, several requirements must be met. These prerequisites ensure potential recruits have what it takes to succeed and thrive within this branch of service.
Age Limitations
The first requirement is age-related. You must be between 17 and 39 years old to enlist in the Air Force. However, if you plan on becoming an officer through Officer Training School (OTS), your age limit extends to 34 years.
Educational Requirements
In terms of education, a high school diploma or its equivalent, such as a GED, is required for enlistment into the Air Force. Those aspiring to become officers via OTS or Reserve Officers' Training Corps (ROTC) need at least a bachelor's degree from an accredited university or college.
Citizenship Status
To join any branch of the U.S. Military, including the Air Force, one needs to be either a U.S. citizen by birth or naturalization or should hold permanent resident status, i.e., a Green Card holder. Exceptions can be made for certain roles where non-citizens with specific language skills might get enlisted under the MAVNI program, which stands for Military Accessions Vital National Interest.
Physical Fitness Standards
The physical fitness standards set by the Air Force include weight limits based on height and gender, along with ability tests measuring endurance and strength like push-ups, sit-ups, and timed runs. A full medical examination will also take place before recruitment, ensuring overall health conditions suitable for rigorous training ahead. Check out the official USAF fitness assessment page for detailed information about these requirements!
Please note that all the criteria mentioned above are subject to change depending on the current rules and regulations the Department of Defense (DOD) laid down.
Key Takeaway: Every branch of our nation's military has its unique roles and perks. The National Guard, for instance, balances both state and federal missions perfectly. If you're juggling civilian life or studies, the Army National Guard offers part-time commitments that might fit your schedule—got a knack for discipline? The Marine Corps could be your calling—they demand high standards from their active duty personnel and reserves, who are always on standby to serve when needed. And let's not forget about the Coast Guard – they're out there ensuring our maritime borders stay secure.
Questions to Ask an Air Force Recruiter
Joining the military is a significant decision that requires careful thought and consideration. Gathering as much information as possible before making this life-changing choice is crucial. One of the best ways to do so is by asking questions directly from an Air Force recruiter. Here are some important questions you might consider:
What Does the Enlistment Process Involve?
The first step towards joining the US Air Force involves understanding the enlistment process. Ask your recruiter about necessary paperwork, physical fitness tests, medical examinations, and other requirements.
What Job Opportunities Are Available in the Air Force?
The US Air Force offers many career paths beyond piloting aircraft. From cyber security specialists to engineers or medics, exploring all possibilities with your recruiter is essential.
How Can I Prepare for Basic Military Training (BMT)?
BMT is physically demanding and mentally challenging; preparation is key to success. Your Air Force recruiter will provide valuable tips on how you can get ready for this training phase.
Can I Pursue Education While Serving in the Air Force?
If continuing your education while serving interests you, discuss the educational benefits offered by programs like the Tuition Assistance Program or Community College of The Air Forces (CCAF).
Remember that recruiters have been through these processes themselves, and their knowledge could be invaluable when deciding whether joining the US Military suits your personal goals.
Key Takeaway:
Are you starting your military journey? Finding and connecting with recruiters is your first step. Look for local recruiting offices using online resources like the Navy's Local Recruiter Locator or the Army's website chat feature. Make sure to prepare beforehand – know what you want from a military career so you can have meaningful conversations with recruiters.
Benefits and Opportunities in Joining the Air Force
The military is a powerhouse of opportunities, whether the Army, Navy, Marines, Air Force, or Coast Guard. It's more than just service to your country; it opens various career possibilities.
Over 30,000 individuals each year find their way into these branches. And what awaits them? A world teeming with roles that cater to diverse interests – from combat specialties to technical positions.
Career Opportunities in the Military
In addition to conventional warfare roles, there are health and medical service opportunities within the armed forces. You could serve as a nurse or doctor, providing vital healthcare services for fellow servicemen and contributing significantly towards public health initiatives.
Education and Training Opportunities
The benefits don't stop at job options, either. There are education and training opportunities aplenty when you sign up for duty. Tuition assistance programs exist across all branches, enabling personnel to further their academic pursuits while serving.
Beyond academics, though, being part of this esteemed institution equips you with valuable life skills such as leadership abilities and teamwork proficiency, which remain invaluable even post-service.
Health and Medical Service Opportunities
Military personnel enjoy comprehensive healthcare coverage, including dental care – something often overlooked by civilian jobs but considered paramount here. Top-tier medical facilities ensure good health among their ranks, ensuring no one is left wanting regarding well-being.
The story doesn't end once active duty concludes; veterans continue receiving excellent healthcare services after leaving active duty, thanks mainly in part to Veteran Affairs hospitals spread throughout the nation.
So yes, joining the US Military offers significant benefits regarding career advancement potential and holistic welfare for those who serve these invaluable institutions, making it an attractive option for many Americans seeking a meaningful and fulfilling profession.
Key Takeaway: Joining the Air Force isn't just about serving your country; it's a ticket to a treasure trove of opportunities. From diverse career paths and top-notch education programs to comprehensive healthcare coverage that sticks around even after active duty – it's more than just a job; it's an investment in your future.
Decoding the Recruitment Process Across Various Locations
The recruitment process of the US military differs greatly depending on where it is taking place or which branch office is involved. The West United States, Colorado Springs, and El Paso in Texas are three regions that highlight this diversity.
1. Unpacking Recruitment in the West United States
Military recruitment strategies across the western part of the U.S., such as those for the Army, Navy, Marines, Air Force, or Coast Guard, tend to be tailored according to regional demographics and needs. It's all about meeting quotas while addressing local interests.
This region is dotted with prominent military bases like Fort Carson and Peterson AFB, which naturally spur interest in joining the armed forces among locals – making it easier for recruiters to find potential candidates right at their doorstep.
2. Diving into Recruitment in Colorado Springs
In cities like Colorado Springs, where key military installations abound (think Schriever AFB), there's an efficient system due to readily available resources for training prospective candidates about life within various service branches.
Given this city's rich aerospace heritage, Air Force recruiters often hold informative sessions at high schools or colleges to inspire young individuals considering aviation or space technology careers.
3. Exploring Recruitment Efforts in El Paso, Texas
Texas has long been a hotbed for military enlistment thanks mainly to its border proximity; many Texans grow up understanding the implications associated with national security concerns. This rings true when discussing recruitment efforts in El Paso – the home base of Fort Bliss – one of America's most extensive army posts. Here, you'll find robust army recruitments happening year-round.
Frequently held job fairs offering career counseling services provide invaluable guidance regarding diverse roles within different branches, helping interested parties make informed decisions concerning future endeavors aligning perfectly with personal ambitions alongside patriotic duty fulfillment aspirations.
Key Takeaway: US military recruitment isn't a cookie-cutter process but is shaped by local demographics and interests. The West US, Colorado Springs, and El Paso showcase this diversity with their unique approaches – from leveraging the allure of prominent bases in the West to tapping into aerospace heritage in Colorado Springs and harnessing border proximity consciousness in Texas for robust army recruitments.
Additional Resources for Potential Air Force Recruits
Leveraging the right resources can make the path to enlistment simpler and less intimidating. We've compiled essential tools and information that can make a difference on your journey.
Your First Stop: The Delayed Entry Program (DEP) Guide
To start this adventure, familiarize yourself with our Delayed Entry Program (DEP) Guide. It provides an idea of what lies ahead in the enlistment process and offers admissions process support.
Stay informed about military career trends by keeping up with the latest stories and updates through our news feeds. This way, you're always in touch with changes across the Army, Navy, Marines, Air Force, or Coast Guard branches.
A Peek into Civilian Life Post-Service: 10 Best Jobs
While serving is rewarding, understanding how acquired skills translate into civilian jobs adds value. Our 10 Best Jobs For Civilian Life list provides insights into roles that offer fulfilling experiences while serving and preparing recruits for post-service employment opportunities.
Grooming Standards & FAQs About Careers – Your Questions Answered
Military services take discipline seriously, including strict grooming standards across different branches. Check out our detailed guide on Grooming Standards to learn more.
If enlisting has crossed your mind, there may be questions swirling around. Don't worry; we've covered you with a comprehensive set of FAQs that touch upon various aspects of recruitment procedures and daily routines, providing valuable insight into military careers.
This collection aims to ensure aspiring servicemen and women are well-informed, making their transition smoother, whether they're considering the Army or eyeing the Coast Guard.
Browse these resources at your leisure, knowing they're here whenever you need guidance along the path to becoming a proud member of the US Armed Forces.
Key Takeaway: Joining the military doesn't need to feel like a puzzle. With our Delayed Entry Program Guide, up-to-date news on military trends, and insights into civilian jobs after service at your disposal, you're more than ready for this adventure. Check out our FAQs and grooming standards guide for added clarity. Remember – these resources are here to smooth your journey toward becoming a
FAQs about Air Force Recruiter Near Me
Can you walk into an Air Force recruiter?
Potential recruits are welcome to walk into an Air Force local recruiting office. However, scheduling an appointment ensures the recruiter's availability for a thorough discussion.
How do I find a recruiter for the Air Force?
The Air Force website provides a tool to locate your nearest recruitment office based on your zip code or city and state.
Is the Air Force struggling to recruit?
No specific military branch consistently struggles with recruitment as it varies over time due to factors like the economy, world events, and job market trends.
How long does it take to join the Air Force?
The enlistment process duration can vary greatly but typically ranges from several weeks up to six months, depending on medical clearances and ASVAB scores, among other factors.
Conclusion
Beginning the process of joining the United States Air Force can be an exhilarating experience. Air Force is an exciting endeavor.
Finding your local Air Force recruiter doesn't have to be complicated.
Understanding eligibility requirements, exploring officer programs, and learning about different service branches are all critical steps in this process.
Contacting recruiters and preparing for your visit by understanding physical fitness standards and ASVAB tests can set you up for success.
The benefits of joining the force extend beyond career opportunities – they shape character, foster resilience, and instill a sense of purpose like no other path.
Your next step after meeting with your recruiter could include familiarizing yourself with the Delayed Entry Program (DEP) Guide or grooming standards as you gear up for Basic Military Training (BMT).
Air Force recruiter near me – once just a thought in passing has now transformed into reality through knowledge empowerment!