Are there any women Navy SEALs? This is a question that sparks intrigue and curiosity.
The journey to becoming a Navy SEAL is grueling, demanding the utmost physical strength and mental resilience.
In this male-dominated field, we often wonder if women are breaking barriers and making their mark. Are there any female Navy SEALs, indeed?
This stimulating subject confronts us with queries regarding gender roles, societal conventions, and the accurate meaning of might.
Are There Any Women Navy SEALs Table of Contents:
The Challenge of BUDS for Female Athletes
Female athletes aiming to join the ranks of Navy SEALs encounter unique challenges in Basic Underwater Demolition/SEAL (BUD/S) training. This course is known for pushing even the fittest individuals to their limits.
Physical demands during BUD/S training
Becoming a part of Naval Special Warfare requires immense physical strength and endurance. The grueling log drills test upper body power while full gear runs over uneven terrain and demands peak performance from every recruit.
To understand what these female soldiers face daily at this Navy special operations job, one can refer to the official description provided by Navy SEALs about BUD/S Training. It gives an insight into each phase – conditioning, diving, and land warfare – all requiring different aspects of fitness, like cardiovascular stamina, muscular strength, and agility.
Mental resilience is required for the successful completion
No matter how physically demanding it gets, succeeding at BUD/S often hinges on mental toughness more than anything else. Enduring days without sleep while focusing on complex tasks calls for exceptional mental fortitude that not many possess but is essential when a woman enlists in such competitive commando jobs.
A comprehensive study titled "Predicting Success in Basic Underwater Demolition/SEAL (BUD/S) Training: A Review Of The Literature", published by PubMed Central, highlights how psychological factors such as grit play a significant role among recruits undergoing intense military programs like enlisted females participating in naval special warfare's rigorous selection process or male counterparts assigned special forces group roles after completing similar arduous training."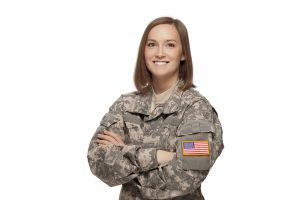 Building Character through Teamwork
The Naval Special Warfare Insert Challenge is a grueling test of physical strength and mental fortitude. But it's not just about individual prowess – teamwork is integral to this challenge.
This becomes particularly significant for female soldiers making their mark in what has traditionally been an all-male domain.
Importance of Teamwork in Naval Special Warfare
In high-stakes military operations like those undertaken by Navy SEALS or the Army's elite special forces teams, seamless cooperation can be the difference between mission success and failure. Teamwork is not only desirable but essential to achieve success.
BUD/S training places heavy emphasis on fostering such collaborative skills among recruits. One example involves carrying logs over long distances – requiring immense physical effort and precise coordination with fellow trainees.
Examples of How Character Is Demonstrated
A recruit's character is measured by her resilience and how she treats others during challenging times. In other words, respect towards teammates and maintaining morale amidst adversity counts too.
Demonstrating these traits effectively often comes down to seemingly small actions taken at critical moments; think helping your struggling teammate carry that 200-pound inflatable boat across several miles during 'Boat Crew' exercises or encouraging one another when exhaustion sets in after days without sleep.
Such experiences teach recruits the importance placed upon collective triumph over individual achievements within competitive commando jobs like being assigned special forces group members or naval special warfare center trainers – lessons they will carry throughout their careers as enlisted women serving our nation bravely alongside male counterparts.
Embracing Sacrifice and Resilience
Becoming a Navy SEAL is an uphill battle, demanding sacrifice and resilience. It's not for those who shy away from adversity or hardship.
Demonstrating Sacrifice during Training
Sacrifices are made daily by these brave women as they navigate the treacherous waters of the Naval Special Warfare training pipeline. They willingly surrender comfort, sleep, and personal time with family or friends – all in pursuit of their dream to serve on one of the most elite military units worldwide.
This dedication sets them apart as potential candidates for competitive commando jobs like transport navy seals or boat operators within special boat teams.
FAQs Are There Any Women Navy SEALs
Are there currently any female Navy SEALs?
No woman has completed the rigorous training to become a Navy SEAL.
Who is the first female Navy SEAL?
No woman has yet achieved the title of a Navy SEAL. The process remains open and challenging for all who aspire.
How many females have graduated from Navy SEALs?
No women have graduated from the demanding BUD/S training required to become a Navy SEAL.
Can girls go to the Navy SEALs?
Absolutely. Since 2015, all military combat roles, including those in Special Operations units like the SEALs, are open to women.
Are there any women Navy SEALs Conclusion
Becoming a Navy SEAL is no easy feat, demanding the utmost physical and mental strength.
High-performance female athletes have taken on this grueling challenge, demonstrating their resilience in Basic Underwater Demolition/SEAL (BUD/S) training.
By demonstrating their capability to work together and build character, these women show that they can stand out in this area, which has historically been predominantly male.
Sacrifice and resilience are vital qualities these potential female Navy SEALs embrace as they endure harsh conditions during training.
So yes, there may not be any confirmed female Navy SEALs yet, but the path has been paved for them to succeed.
Suppose you're intrigued by the possibility of more females joining our elite military forces or considering a career within the US military yourself. In that case, whether with Navy SEALs, Army, Navy Marines, or Air Force – we encourage you to explore further at usmilitary.com.
Find your nearest Navy recruiter here. Enjoy your day!