Have you pondered the demands of becoming a Navy SEAL? Have you ever wondered about the sweat, grit, and resilience needed to conquer BUD/S training? Envision standing at the brink of your comfort level. It's pitch black; cold waves are crashing over you.
You're gasping for air. But there's no turning back now.
This is just a glimpse into the journey that awaits those brave enough to tread this path—a crucible where only the toughest survive, molding ordinary men into extraordinary warriors.
Intrigued? Stick around as we delve deeper into each grueling phase of BUD/S training and how it transforms recruits from raw clay into hardened steel. Ready?
Table Of Contents:
First Phase BUD/S Training
The first phase of Basic Underwater Demolition/SEAL (BUD/S) training is arguably the most challenging part of becoming a Navy SEAL. This rigorous seven-week course tests physical and mental strength, pushing candidates to their limits with intensive workouts, sleep deprivation, and extreme weather conditions.
Physical Conditioning
In the initial weeks of BUD/S training, recruits are subjected to demanding physical conditioning, including running for miles in soft sand, swimming long distances in cold ocean water, and performing countless push-ups and pull-ups daily. The goal is to build up stamina and resilience against exhaustion and pain.
Hell Week: Ultimate Test Of Endurance
The culmination of this phase comes at "Hell Week," where trainees undergo five-and-a-half days of continuous training with minimal sleep. During Hell Week, they participate in various drills, such as carrying heavy logs over their heads for hours or wading through freezing surf repeatedly – all while being constantly harassed by instructors, aiming to weed out those who cannot handle the stress.
Mental Toughness And Teamwork
Beyond physical endurance, the first-phase BUD/S also emphasizes mental toughness and teamwork. Candidates must prove they can remain focused under pressure while working effectively as a team member. They learn crucial skills like navigation using compasses and charts during night-time land orientation exercises; these test cognitive abilities when fatigued beyond normal levels.
Please note: No information was found regarding Michael Ernst's death related directly to his time during BUD/s or afterward serving as a Navy SEAL.
Second Phase BUD/S Training
The Basic Underwater Demolition/SEAL (BUD/S) training program is known worldwide for its intensity and difficulty. The second phase of this rigorous program focuses on combat diving, a crucial skill for every Navy SEAL.
Diving Fundamentals
In the second phase of BUD/S, candidates learn open-circuit (compressed air) SCUBA skills and closed-circuit (100% oxygen) UBA skills. These lessons are designed to improve underwater navigation, increase breath-holding capabilities, and enhance overall comfort while submerged. Trainees also undergo long-distance timed swims to build endurance.
Tactical Diving
Beyond basic diving techniques, trainees learn tactical applications during the second phase. This includes conducting clandestine dives with specialized equipment and performing ship attacks beneath the water's surface – a signature tactic in SEAL operations.
Physical Conditioning Continues
While learning these new skills, physical conditioning remains an integral part of this stage. Candidates continue their regimen of running, swimming, and calisthenics at high intensities to ensure they're ready for any challenge that comes their way during missions or further training stages.
Mental Toughness Tested
Besides physical challenges, mental toughness plays a significant role in BUD/S' second phase. With scenarios designed to induce stress comparable to real-world combat situations such as navigating through pitch-black waters or dealing with equipment failure under pressure; it tests each candidate's physical and mental ability, preparing them for what lies ahead when serving as a Navy SEAL.
Overall, the second phase of BUD/S training is designed to push trainees beyond their limits and equip them with skills necessary for special operations in any maritime environment. This intense training period truly separates those who can withstand the pressure from those who cannot.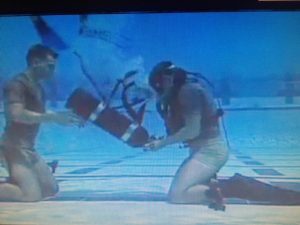 Third Phase BUD/S Training
In the third phase of BUD/S, candidates are taught various skills essential for combat situations on land. These include patrolling, reconnaissance missions, close-quarters combat, and how to navigate through different types of terrain.
This phase lasts seven weeks at Camp Pendleton in California, where the rugged landscape provides an ideal setting for realistic training scenarios.
Tactical Lessons Learned
Beyond learning specific tactical maneuvers and strategies, SEAL candidates also gain invaluable experience working in a team under high-stress conditions. They know how to plan missions effectively while dealing with fatigue, hunger, or even injury – all factors they may face in real-world operations.
Mission Simulation Exercises
Much of this phase involves mission simulation exercises designed to test everything learned so far during BUD/S training. This includes 'field training exercises' (FTXs), which simulate actual SEAL missions involving objectives such as enemy camp infiltration or hostage rescue scenarios.
The culmination point is a three-day exercise known as "Operation Night Crawler," where teams must complete multiple objectives while evading detection from instructors acting as enemy forces.(source)
The third phase of BUD/S training is a critical step in becoming a Navy SEAL. Here, candidates truly begin to understand what it means to be part of this elite fighting force.
Life as a Navy SEAL Trainee
Being a BUD/S trainee is not for the faint of heart. It's like being in an extreme sports competition, but there's no finish line or cheering crowds—only more challenges to face.
The rigors of BUD/S training can make you question your sanity. Picture this: You're sleep-deprived and physically exhausted yet expected to perform at peak levels continuously. That's the norm for these brave individuals who aim high to become elite warriors.
A day in the life involves grueling physical drills that push even the fittest athletes beyond their limits. The mental challenges trainees face are just as tough—if not tougher—as they need immense willpower and resilience to persist despite repeated failures and setbacks.
No surprise then, BUD/S has a notoriously high dropout rate. But those who stick it out learn valuable lessons about teamwork, adaptability, and grit—a testament to their remarkable strength inside and out.
Comparison to Other Special Warfare Training Programs
The BUD/S Navy SEAL training, notorious for its grueling intensity, stands out among other special warfare programs. How does BUD/S compare to the Army's Special Forces training regimen?
BUD/S focuses on physical and mental resilience for six months, including the infamous "Hell Week". In contrast, Army Special Forces candidates undergo the Selection and Assessment program followed by a 53-week Qualification Course focusing more on technical skills and language proficiency.
However, both share an emphasis on teamwork. The attrition rate in BUD/S is around 75%, but those who survive form unbreakable bonds through shared hardship. Similarly, building trust within teams is critical in Army SF where operators often work closely with foreign allies.
In essence, while each has unique aspects tailored towards their respective missions—Navy SEALs are maritime-focused while Green Berets have a broader land-based operational mandate—they equally demand exceptional commitment from their trainees.
FAQs about BUD/S Training
How long is SEAL training after BUD/S?
After BUD/S, SEAL candidates undergo an additional 26 weeks of SEAL Qualification Training (SQT) before earning their Trident.
What is BUD/S?
Navy SEAL BUD/S (Basic Underwater Demolition/SEAL) is a grueling six-month program that trains future members of the U.S. Navy's elite special operations force. It's held in Coronado, CA, at the Navy Amphibious Base.
Is BUD/S the most challenging part of SEAL training?
BUD/S pushes trainees to extreme physical and mental limits, but many argue that subsequent stages like SQT or Hell Week are even more challenging.
What is the SEAL training after BUD/s?
The post-Bud/s phase includes both Parachute Jump School and Seal Qualification Training – further honing skills required for mission readiness in diverse environments.
BUD/S Training Conclusion
So, you've made it through the grueling details of BUD/S Navy SEAL Training. You now understand what makes this journey one of the toughest in military training.
You learned about the significance of Naval Special Warfare Preparatory School and its role as a stepping stone for future SEALs.
You discovered Hell Week's brutal intensity and why it's known as the ultimate test during Basic Underwater Demolition/SEAL Training.
The four phases? They're designed to push recruits beyond their limits, honing body and mind into an unstoppable force.
Beyond that, we dived into Physical Screening Test requirements – these are no walk-in-the-park either!
In conclusion: Remember how challenging life can be for a trainee? The mental challenges faced aren't just intense; they're transformative.
But also remember – this path isn't for everyone! It takes grit, determination, teamwork…and then some more spirit!
Want to find out more info on becoming a Navy SEAL? Find you Navy recruiters here.