How to Join the Coast Guard
If you want to serve your country while gaining valuable life skills, joining the United States Coast Guard could be a great option. However, there are specific requirements that must be met for eligibility.
Basic Eligibility Requirements
To join the U.S. Coast Guard, you must meet some basic qualifications. You must be a U.S. citizen or resident alien between 17 and 31 years old (though veterans may have this age requirement waived). A high school diploma is required; however, GEDs can sometimes be accepted under exceptional circumstances. Applicants should also possess good moral character, as evidenced by a lack of criminal record and positive references.
Fitness Standards
The Coast Guard sets rigorous physical fitness standards for its recruits. These include specific time frames for running a mile and a half within certain times based on gender and age group, along with other strength-based exercises such as push-ups and sit-ups.
Aptitude Testing
All potential recruits must take the Armed Services Vocational Aptitude Battery (ASVAB) test, which measures abilities in areas like mathematics knowledge, word knowledge, and paragraph comprehension.
These are just general guidelines – individual recruiting offices might have additional requirements or exceptions depending on various factors. So, it's always best to contact your local recruiter directly if you're considering enlisting in this branch of service.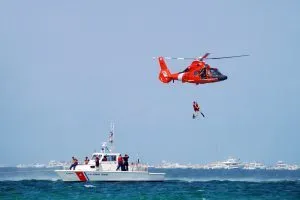 Table Of Contents:
Coast Guard Recruiter Nearest Me
If you're considering a career in the military, specifically in the United States Coast Guard, one of your first steps will be to find and speak with a recruiter who can provide invaluable insight into life in the Coast Guard, answer any questions about joining, and guide you through the application process. Find your nearest Coast Guard recruiter and all the military branch recruiting offices here.
Finding Your Local Coast Guard Recruiter
Use their online locator tool to locate your nearest US Coast Guard recruiting office. Input your zip code or city and state to get contact information for recruiters closest to you. This online tool makes it easy for potential recruits across all 50 states to connect with a local representative.
What Can You Expect From Your First Meeting With Your Coast Guard Recruiter?
Your initial meeting with a recruiter is an opportunity for them to assess if you are suitable for service within the Coast Guard while also giving prospective members an understanding of what they can expect from this branch of service. Be prepared by bringing relevant documents such as birth certificates or social security cards and any questions about life in the Coast Guard that could help inform your decision-making process.
The Role Of The Recruiters In The Application Process
Apart from providing detailed information about various roles within the Coast Guard and answering queries related to basic training requirements or benefits offered by this branch of service, recruiters also play an essential role during the recruitment stages. They assist applicants through each step – from completing correctly to scheduling physical fitness tests or helping arrange interviews at Military Entrance Processing Stations (MEPS).
In conclusion, finding a Coast Guard recruiter near you is the first step toward starting a career in the United States Coast Guard. These recruiters are there to guide you through the application process, provide information about the different roles available, and answer any questions you may have. Take advantage of their expertise and decide to join the Coast Guard.
Navigating Your Path with Recruiters' Guidance
The Coast Guard recruiter is like your personal GPS, guiding you through boot camp details and different entry programs. Recruiters don't just stop at providing guidance; they can also assist with exploring the various roles available based on ASVAB scores, even for those who have prior military experience.
Your ASVAB scores can open doors to various roles within the Coast Guard enlisted ranks; understanding these opportunities is where recruiters come in handy.
Prior military individuals aren't left out either. The lateral entry program allows them to use their previous experiences when joining up.
To learn more or locate your nearest recruiting office, visit the Find-a-Recruiter page at gocoastguard.com.
If you're ready for action and want more information, check out the Apply Now section at gocoastguard.com.
And don't forget that making it through boot camp successfully leads to a fulfilling career.
Coast Guard Age Requirements
If you're considering a career in the military, particularly with the United States Coast Guard, it's essential to understand the age requirements. The US Coast Guard has specific guidelines on who can enlist and serve based on their age.
The minimum age for enlisting in the Coast Guard is 17 with parental consent or 18 without it. However, different maximum ages depend upon your intended role within this branch of service. For enlisted personnel (those not planning to become officers), the whole age at enlistment is generally 27 years old; however, individuals as old as 31 may be eligible if they meet specific requirements.
How to Find My Coast Guard Recruiter
If you're considering a career in the U.S. Coast Guard, one of your first steps will be finding and speaking with a Coast Guard recruiter. These professionals can provide valuable information about life in the service and guidance on meeting the requirements for enlistment.
Requirements to Join the Coast Guard
The United States Coast Guard has several basic eligibility requirements for all potential recruits. First, you must be between 17-31 years old (although veterans may have this age requirement waived). You also need to be a U.S. citizen or resident alien.
Educationally, at least a high school diploma is required, while GEDs are accepted under certain conditions. Regarding physical fitness, applicants should meet weight and body fat standards based on height and gender and pass medical evaluations, including vision and hearing tests.
In addition to these prerequisites, prospective members should not have any serious criminal record or excessive drug use history. A clean financial background check is another important factor recruiters consider during selection.
Fulfilling these criteria does not guarantee admission into the USCG. Still, it gives you an opportunity for consideration depending upon competitive factors such as scores from the Armed Services Vocational Aptitude Battery (ASVAB) test, among others. Click here to learn more about physical fitness guidelines set by the USCG.
Contacting Your Nearest Coast Guard Recruiter
Your local Coast Guard recruiting office is usually your best point of contact when looking for recruitment advice specific to your circumstances. They can help answer questions regarding qualifications needed or what training programs might suit your interests most closely. They'll guide you through the application process, ensuring that every detail aligns perfectly with achieving successful enlistment goals. This makes the transition smoother if chosen for service duty within the United States Coast Guard forces.
GoCoastGuard, an official website of the U.S. Department of Homeland Security, provides detailed information about these exceptions.
Age Waivers for Prior Service Members
Prior service members from other branches can join even after surpassing the standard cut-off by applying for an 'age waiver'. This option is available up until one's mid-thirties but varies depending upon how many years someone previously served and what kind of discharge they received from their former branch.
Officer Programs Age Limitations
If you aspire to become an officer in the Coast Guard, different rules apply regarding age limitations. Officer Candidate School (OCS) accepts applicants between ages 21-26, while Direct Commission programs typically require candidates aged between 21-40, depending on which program one applies to. Uscg.mil, another resourceful site, explains these variations among officer programs and provides additional details regarding various aspects of joining Coast Guard services.
Reserve Component Age Requirements
If you're interested in serving part-time through the Reserve component instead of full-time active duty, remember that similar rules apply here, too, just like the regular enlistment process, except that the upper limit goes till around the early forties, again varying slightly based upon individual circumstances. More details can be found on the GoCoastGuard Reserve Careers Page.
What To Expect At The Coast Guard Recruitment Office
Your first visit will typically involve speaking with a recruiter about potential career paths within the Coast Guard based on your skills and interests. They may also discuss eligibility requirements such as age limits, educational background, physical fitness standards, and legal considerations.
Making Contact With A Coast Guard Recruiter Online
If visiting an office isn't feasible due to distance or other constraints, you can also make contact online via email or live chat services provided by most recruitment centers. This option allows prospective recruits flexibility and convenience when seeking information about joining this branch of service.
Email: Many recruiters offer direct email addresses for inquiries, usually listed on individual location pages.
Live Chat: Some locations even offer live chat options during business hours.
Social Media: You might find some recruiters active on social media platforms like Facebook, answering questions and sharing updates about enlistment opportunities.
Remember: Each journey begins with one step; contacting a recruiter is yours if you're considering serving in our Nation's oldest continuous seagoing service – The United States Coast Guard!
Benefits of Joining the Coast Guard
When you think about life in the Coast Guard, several benefits come to mind. These range from financial perks like tuition assistance and paid vacation time to meeting physical fitness requirements and becoming part of a tight-knit Coast Guard community.
Tuition Assistance and Other Financial Benefits
Duty Coast Guard personnel can access various financial incentives that make their service worthwhile. The most prominent among these is tuition assistance for those looking to further their education during or after their Coast Guard career.
In addition to this educational support, active-duty members enjoy 30 days of paid vacation every year. This, along with comprehensive healthcare coverage, substantial allowances, and solid retirement plans, forms an attractive package.
Physical Fitness Requirements for Enlistment
Enlisting in the Coast Guard is not an easy task – there are specific physical fitness standards that potential recruits must meet. These prerequisites ensure that all personnel possess the strength and endurance required for the demanding tasks they may face during their service period.
The Morale, Well-Being, and Recreation (MWR) program plays a crucial role here by promoting health and wellness among its members through recreational activities. Lodging facilities can also be availed as part of MWR services, enhancing comfort while serving your nation.
Background Check and Application Process: A Deeper Dive
The Coast Guard's recruitment process begins with a thorough background check. It's not just about ticking boxes; it's about ensuring you are the right fit for this maritime service.
That's not the conclusion, however. You will be paired with a recruiting liaison – your guide through the maze of paperwork and protocols that are part of the application process. They are your point of contact, always available to answer any inquiries or worries.
Requesting a vessel safety check, a unique offering from the Coast Guard is another aspect of their commitment to safety at sea. While it may seem unrelated to recruitment on the surface, it reflects their rigorous selection procedure that prioritizes safety above all else.
Fitness Assessments and Medical Examinations: What To Expect?
In addition to background checks, physical fitness assessments are designed to test your ability to withstand the challenges of life at sea. You will also undergo medical examinations to evaluate your overall health status.
Aptitude tests also play a significant role in this phase; they measure your mental agility and suitability for various roles within the Coast Guard structure. Being prepared will greatly help you overcome these hurdles.
Career Opportunities within the Coast Guard
Coast Guard careers offer many opportunities, from law enforcement to diverse officer roles. Each role plays a crucial part in upholding homeland security and enforcing maritime law.
Petty officers serve on active duty and are essential to the armed services. Their work is varied and vital – it's about patrolling coastlines and contributing significantly to national defense.
Warrant officers bring valuable technical expertise to their units and lead teams with authority.
In addition to these ranks is the position of chief warrant officer (CWO). CWOs take on even more responsibility and become critical decision-makers within their respective fields.
If you aspire to higher ranks, consider aiming for master chief status. These senior enlisted members provide invaluable advice based on years of experience – they are true leaders among leaders.
And if your interests lie in the air force rather than the sea service, there is plenty of overlap between these two branches. There is something for everyone, from aircraft maintenance to aviation survival technician roles.
The Coast Guard offers various career paths that cater to different skill sets and interests. You can choose a path that aligns with your passion while proudly serving your country. Renewing military IDs, which dependents, retirees, and individuals often need to do as part of their long-term involvement with our nation's defense forces, is made simple through the comprehensive resources provided by the Coast Guard.
FAQs about All About Coast Guard Recruiter
Is the Coast Guard a member of the military?
No. The Coast Guard officially falls under the Department of Transportation.
What is the recruitment process for the Coast Guard?
The recruitment process involves contacting a recruiter, meeting basic eligibility requirements, taking the ASVAB test, undergoing medical examinations, and background checks before attending boot camp.
Does the Coast Guard have a recruiting problem?
No specific problems are noted. Like all military branches, recruiting challenges can fluctuate based on economic conditions and public sentiment toward military service.
Is it hard to enlist in the Coast Guard?
The difficulty of enlisting varies per individual. It requires physical fitness, passing aptitude tests, and fulfilling other stringent requirements such as age limit and citizenship status.
How many Coast Guard recruiting stations are there?
The exact number may vary over time due to changes in strategy or resources. However, recruiters operate nationwide across multiple locations, which you can find via their official website.
Conclusion
So, you've navigated the journey of learning all about Coast Guard recruiter roles. Impressive!
You now understand the enlistment process from start to finish.
Basic requirements? Check. ASVAB scores and prior military experience? You've got it covered.
The role of a Coast Guard recruiter is no longer a mystery to you.
Paid vacation time, tuition assistance, and physical fitness standards – these benefits are now on your radar, too.
And let's not forget those rigorous background checks and application processes that no longer hold secrets.
Various career opportunities within the Coast Guard have also been explored – law enforcement positions, petty officers, and warrant officers, among others… sound familiar?