Have you ever wondered what it takes to be a Navy SEALs Medal of Honor recipient? It's not just about physical strength or mastering tactical maneuvers. Instead, it's about embodying core values and displaying unparalleled bravery when faced with life-or-death situations.
Picture this: You're deep in enemy territory, outnumbered, and outgunned. Yet, your resolve doesn't falter. That courage? It's precisely what these Navy SEALs had coursing through their veins.
In this blog post, we'll dive into extraordinary stories of bravery that'll leave you on edge – from Bob Kerrey's leadership despite grievous injuries in Vietnam to Mike Monsoor, who threw himself onto a grenade to save his comrades in Iraq.
We're ecstatic to provide you with an exhilarating journey through time, exploring the extraordinary lives of these heroic individuals.
Famous Navy SEALs Medal Of Honor Recipients Table of Contents: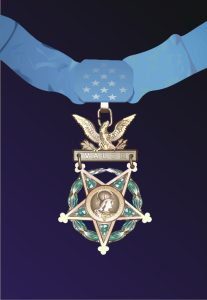 The Prestigious Medal of Honor and Its Navy SEAL Recipients
When it comes to the United States military, there's no higher honor than the Medal of Honor. The medal symbolizes extraordinary bravery, going beyond the call of duty. It holds an exceptional place within naval operations.
In its history, seven courageous Navy SEALs have received this highest award. Each one displayed unrivaled courage and tenacity under extreme conditions. Master Chief Special Warfare Operator Edward Byers Jr. rescued an American hostage from Taliban insurgents during a night operation.
This action required swift precision and strategic thinking defining special warfare operators' role on navy seals teams. And yet, even amongst these elite warriors, earning such high recognition is rare.
Navy Seals undergo rigorous training regimes designed to push them past their physical and mental limits; however, what sets apart those who receive the Medal of Honor isn't just skills or strength—it's selflessness. "No man left behind," they say—and they mean it.
Tales like those of Lieutenant Michael Murphy from Operation Red Wings embody this ethos best—he sacrificed his life calling for help when his team was outnumbered by enemy forces—becoming not just another statistic but a legend in naval lore.
Bob Kerrey's Valor in Vietnam
In the thick of the Vietnam War, Bob Kerrey showed more than just leadership; he demonstrated immense bravery and fearlessness that went above his obligations. He displayed bravery and courage that went beyond his call of duty. Amidst hand-to-hand combat and storming enemy bunkers, he stood tall.
During World War II, Kerrey led his men into impossible missions within enemy territory. Despite facing overwhelming odds, they managed to penetrate deep inside enemy lines time after time.
Kerrey's Grievous Injuries and Continued Leadership
In one such mission, Kerrey was mortally wounded. But even then, he refused to back down or let his injuries deter him from leading his team towards their objective.
Rather than seeking immediate evacuation for himself, Kerrey stayed with his unit, guiding them through tough terrains under heavy fire until reinforcements arrived.
This act of bravery is a testament to Bob's courage and showcases the core values instilled in every Navy SEAL – loyalty towards teammates above all else.
Mike Thornton's Rescue Mission in Vietnam
The courage of Mike Thornton, a Master Chief Special Warfare Operator in the Navy SEALs, is renowned. During a firefight in Vietnam, he made a daring rescue operation to save another SEAL. This act of bravery not only showcased his core values and earned him the highest award for valor – The Medal of Honor.
Navy photo archives reveal that on October 31, 1972, enemy forces had wounded and believed they'd killed Lieutenant Tommy Norris during an intense battle. However, Thornton refused to leave his comrade behind. He went back into enemy territory under heavy fire to retrieve Norris.
The Bond Between Thornton and Norris
This incident forged an unbreakable bond between Mike Thornton and Tom Norris. They served together as part of their Seal Team with mutual respect based on trust earned from shared trials and tribulations on the battlefield.
A close look at this event demonstrates how teamwork forms one of the fundamental attributes amongst Navy Seals – leaving no man behind regardless of circumstances or personal risk involved.
Norris led his team out safely due to Thorton's actions, proving once again why SEALs are revered worldwide for their courage and resilience.
Tommy Norris's Eight-Day Rescue Operation
Navy SEAL Lieutenant Tommy Norris undertook an eight-day rescue operation that would become legendary in the annals of Naval history. As part of this daring mission, he was tasked with rescuing two downed pilots stranded deep within enemy territory.
Despite overwhelming odds and intense combat conditions, Norris remained undeterred. His determination stemmed from his training as a special warfare operator, a role where resilience is vital.
The highlight of the rescue operation came on its final day when Norris donned civilian clothes to blend into the local population. Accompanied by a Vietnamese Sea Commando team, they infiltrated past enemy lines using only their cunning and small arms for protection.
After navigating treacherous terrain under darkness, they located one pilot who had been evading capture for over three weeks. Following this success, the group returned safely to friendly lines without any casualties – all thanks to Norris' leadership skills honed during his time in naval reserve units.
This audacious act earned him widespread recognition, including our nation's highest military award – the Medal Of Honor. Few have demonstrated such courage under fire, making Tommy's story an inspiration for every aspiring Navy Seal.
Mike Monsoor's Ultimate Sacrifice in Iraq
In the bustling streets of Ramadi, an unexpected event turned Mike Monsoor into a revered figure. The Navy SEAL was stationed at an observation post, tasked with protecting his team.
Monsoor's Selfless Act on the Battlefield
An unforeseen grenade hit their location. In those fleeting seconds, it wasn't fear gripped him but resolution. The image of the grenade landing on Monsoor's chest is etched into American military history.
Rather than seeking cover, he made a different choice, fueled by loyalty and courage rather than self-preservation. He threw himself onto the live grenade to shield his comrades from harm – covering it with his body and absorbing most of its deadly blast.
The heavy blankets used for protection couldn't save him this time – they weren't enough to buffer against such close-range detonation held within bare hands. This act would claim Monsoor's life but secure something else entirely: a lasting legacy as one of America's bravest warriors who valued brotherhood above all else.
Mike Murphy's Heroic Actions in Operation Red Wings
Lieutenant Michael P. Murphy, a Navy SEAL officer, showed extreme courage during Operation Red Wings. On June 28, 2005, his four-man team was discovered by enemy fighters while on an early warning mission in Afghanistan.
Murphy's Final Call for Help
Facing impossible odds and under heavy fire from the Taliban forces, Mike made a daring decision that still resonates within senior military circles today.
Despite being wounded, he exposed himself to enemy gunfire to make a desperate call for help using his satellite phone. The signal was weak and intermittent due to the rugged terrain, but Officer Murphy remained undeterred until his message arrived.
This valor displayed by Lt. Mike embodied what it means to be part of the Navy SEALS – bravery beyond measure, even when faced with death. Current officers study his heroics as an example of unyielding dedication and commitment to their duty.
Britt Slabinski's Controversial Battle Against Al Qaeda
In the annals of Special Warfare history, few names stand out as prominently as Master Chief Special Warfare Operator (SEAL) Britt Slabinski. His leadership during a pivotal fight against Al Qaeda in Afghanistan remains an area of intense discussion.
Slabinski led a SEAL Team on Robert's Ridge, also known as Operation Anaconda, where they set up an observation post atop Takur Ghar mountain. Rockets and bullets from the opposition struck their Chinook chopper, and their mission quickly turned for the worse.
The team found themselves under heavy fire, facing impossible odds. Amidst this deadly onslaught, Air Force Tech Sgt John Chapman was critically injured and presumed dead by his comrades, who retreated further downhill for cover.
Slabinksi's Leadership Questioned
Critics argue that then-Senior Chief Slabinski decided to leave Chapman behind, which has sparked controversy. Yet supporters counterargue, stating his actions were dictated by the fog of war and survival instincts rather than any failure in leadership or abandonment.
A later review suggested that Chapman might have been alive when left behind; however, this hasn't altered the respect many hold for Senior Chief Slabinksi within special operations circles. He is viewed not only for his courage but also for embodying core values cherished among Navy Seals – loyalty, duty, respect, selfless service, honor, integrity, and personal courage (LDRSHIP).
Despite the debate, in 2018, President Trump granted Slabinski the Medal of Honor at a White House ceremony to recognize his courageous behavior on that fateful day.
FAQs with Navy Seals Medal of Honor Recipients
How many Navy SEALs have got the Medal of Honor?
Seven courageous Navy SEALs have been awarded the prestigious Medal of Honor for their bravery in combat.
Has a Navy SEAL ever won the Medal of Honor?
There are seven heroic instances where a Navy SEAL has received this highest military honor.
Who was the last Navy SEAL to receive the Medal of Honor?
The latest recipient is Britt Slabinski. He earned his medal leading an Al Qaeda battle during Operation Anaconda in Afghanistan.
Who is the most highly decorated Navy SEAL?
Roy Boehm holds that title. As a World War II and Vietnam veteran, he's known as one of America's most honored warriors.
Conclusion
The stories of these Navy SEALs Medal of Honor recipients are tales of unparalleled courage. Accounts that show us what it truly means to be a hero.
Tales like Bob Kerrey's leadership despite serious injuries in Vietnam or Mike Monsoor, who made the ultimate sacrifice in Iraq to save his comrades.
These men lived by their core values, showcasing bravery when faced with life-or-death situations. They were deep within enemy territory and outnumbered but didn't falter. This is the kind of courage we've delved into today.
If there's one thing you should take away from this, it's how extraordinary acts can come from ordinary people driven by duty and honor above all else.