Every military prospective recruit has heard of the Montgomery GI Bill. If you take a poll of enlistees in any military branch and ask them why they signed up, chances are good that you'll hear "I want to get a college education." However, if you're planning on going to college on Uncle Sam's dime, you need to educate yourself about the GI Bill and the benefits that it provides.
What Exactly is the Montgomery GI Bill
The GI Bill, sometimes called the Montgomery Bill or the Montgomery GI Bill, was started after WII vets came home as a way to help them move from combat to a career. The Montgomery Bill provided veterans with money for school, unemployment compensation, home loans, and more.
Find your local military recruiter and give them a call.
Today's Montgomery GI Bill focuses entirely on education. Service members can use their GI Bill benefits to further education, including on-the-job training, non-degree programs, apprenticeships, as well as a traditional college education, including associate's, bachelor's, master's, and even doctorate degrees.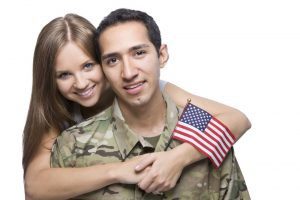 Is The Montgomery GI Bill Really Free?
So, what's the catch? There's always a catch, right? The truth is that the GI Bill isn't actually free. Service members need to sign up for benefits and in doing so, forfeit $100 a month for their first 12 months of service. This amount can seem like a fortune for E-1s who make less than $1500 a month, but the benefits far exceed that initial $1200. It's also possible for some service members to 'buy' more benefits for their future education by paying an additional $600 that first year (called the Buy-Up program or Kicker if you're entering the Air Force).
Different Types Of Programs And What They Cover
There are a number of different programs for vets and they can be confusing. You MUST fill out what's known as the VONAPP (Veterans Online Application) to determine eligibility. If you're unable to fill this form out online, you can call 1-888-GIBILL1 and the VA will mail a form to you.
Chapter 33 (The Post 9/11 GI Bill, AKA, The One You Want)
If you're really looking to maximize your Montgomery GI Bill benefits, see if you qualify for the Post 9/11 GI Bill. While the other versions are good, the Post-9/11 GI Bill is definitely the best. Under the Post 9/11 GI Bill, student veterans who served at least 90 days after September 11, 2001 — 30 days if they were discharged with a service-connected disability — and received an honorable discharge (this is key!) will receive the following benefits:
The full tuition and fees are paid directly to the school. This is so big, it bears repeating. Your full tuition and fees will be directly paid to the school, up to $17,500 per academic year. Students no longer need to worry about dealing with their school's bursar's department or stress out over fees if they're using the Post 9/11 GI Bill.
A housing allowance. The military calls this BAH, but for VA purposes, it's known as MHA or monthly housing allowance. It's based on the E-5 with dependents rate and your school's zip code. If your program is an online one, you'll receive $673.44 for your monthly housing allowance.
An annual book stipend of up to $1000.
[the_ad_group id="19″]
Service members can receive benefits for 36 months and can receive payments for up to 15 years after they are honorably discharged under the Post-9/11 GI Bill.
Additionally, some service members can even transfer their Post 9/11 GI Bill benefits to their dependents (that's military speak for the family!). This means that if a veteran hasn't used all of his or her benefits, a spouse or child can receive free tuition, a housing allowance, and a book stipend while they're enrolled in a school.
Chapter 30
Under the Chapter 30 GI Bill, full-time students can receive up to $1473 a month for up to 36 months. These benefits typically have to be used within 10 years of the date of separation (that's military speak for the day you left service), but extensions can be made for veterans who have been injured or have a documented reason why they can't start school (but be sure to check on this! You don't want to assume you'd get an extension and be turned down). Veterans who are part-time students only receive part-time benefits, however, they can receive up to 72 months to complete their degree.
Less Common Montgomery GI Bill Versions
While Chapter 30 and the Post 9/11 GI Bill are now the most common, there are other programs out there. These include:
Chapter 31
VEAP
Top Up
and others
College isn't easy, but it's definitely made easier when you use your Montgomery Bill benefits. Using these benefits can mean the difference between graduating saddled with debt and graduating debt free. If you're a veteran, you've earned these benefits so take advantage of them. Consider college to take advantage of your Montgomery GI Bill benefits.