The premier special operators in the American military are the U.S. Navy SEALs.
Sea, Air, and Land, or SEAL training, has earned a reputation as one of the most intense training cycles of any military unit in the world.
The average Navy SEAL can expect to spend 2.5 years in training before being eligible for their first deployment.
The first step in a series of intensive training evolutions is the infamous Basic Underwater Demolition/SEAL, or BUD/S.
Made famous by numerous movies and television shows, particularly for its "Hell Week," BUD/S prepares these elite commandos to become the world's preeminent fighting force.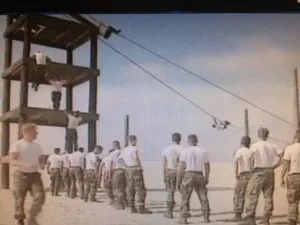 Navy SEAL Training Basic Requirements
So, what does it take to become a Navy SEAL?
Before you can even begin elite Navy SEAL Training (BUD/S), there are fundamental physical and mental requirements that you must meet:
Complete a pre-enlistment medical screening at a local MEPS
Ace the ASVAB Test
Pass a C-SORT Test
Meet the minimum requirements of a SEAL Physical Screening Test.
All military hopefuls begin their journey by completing a medical examination at a Military Entrance Processing Station (MEPS).
Most MEPS visits are a 2-day process that examines an applicant's overall physical and mental health.
You will undergo numerous tests at MEPS, including:
Blood Pressure
Hearing and Vision
Height, Weight, and Body Mass
A complete physical examination from head to toe
Behavioral Health Assessment
Drug Testing
A complete overview of your medical history
Next, all military applicants must complete the Armed Services Vocational Aptitude Battery or ASVAB.
Navy SEAL Height Requirements
There are no reported Navy SEAL height requirements, but the average height is between 5′ 6″ and 6′ 4″. A strong swimmer's height is an advantage.
ASVAB Requirements
The ASVAB is designed to assess your competency in approximately ten different areas to determine the Navy jobs for which you are best suited.
To qualify for training in the Navy SEAL rating (SO), you will need the following minimum ASVAB test scores:
VE + MK + MC + CS = 220 or greater
GS + MC + EI = 170 or greater
VE + AR = 110 or greater
MC = 50 or greater
After completing the ASVAB, all Naval Special Warfare candidates must meet the Computerized Special Operations Resiliency Test, or C-SORT.
C-SORT
The C-SORT is designed to determine maturity and mental resilience in candidates.
Navy SEAL training requires elite-level mental toughness to succeed. C-SORT assists the Navy in pre-screening candidates who are not ready to undertake such a task.
By design, no study guides or preparations are available for the C-SORT test.
Once you have completed your ASVAB, passed the C-SORT, and have been medically cleared, you can expect to be sworn in to the United States Navy.
Navy SEAL Training Schedule
The training pipeline for Navy SEAL candidates is roughly 61 total weeks.
That pipeline includes:
Navy Special Warfare (NSW) Prep Course– 8-12 Weeks)
BUD/S Orientation– 3 Weeks
Basic Underwater Demolition / SEAL Training (BUD/S)– 27 Weeks
Navy Parachute Course– 4 Weeks
NSW SERE Level C– 10 Days
Seal Qualification Training (SQT)– 19 Weeks
The philosophy behind this training is a 'crawl, walk, run style, meaning you'll start everything off slowly, and the training gradually gets ramped up in intensity.
Let's dive into the nitty-gritty details for each step in the training cycle.
Navy Special Warfare (NSW) Prep School
The Naval Special Warfare Preparatory School introduces students to what it takes to become a Navy SEAL.
The NSW prep school lasts eight weeks in Great Lakes, Illinois, following Navy Boot Camp.
Recruits need to exceed the minimum requirements of the SEAL Physical Screening Test (PST) by completing the more demanding Modified Physical Screening Test.
The modified version requires a 4-mile run in less than 31 minutes, a 1,000-meter swim with fins in 20 minutes, 70 push-ups and 60 sit-ups in 2 minutes a piece, and ten untimed pullups.
The purpose of the Naval Special Warfare Preparatory School is to make the training slightly easier at BUD/S, and students can expect to achieve their peak physical preparedness through the NSW Prep School.
Those who cannot pass the final modified PST will be dropped from the Navy SEAL program and reassigned to another Navy job.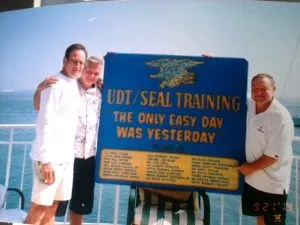 BUD/S Class 89 is responsible for the "The Only Easy Day Was Yesterday" motto and plaque.
BUD/S (Basic Underwater Demolition SEAL Training)
Basic Underwater Demolition/SEAL (BUD/S) School lasts approximately 27 weeks from start to finish and introduces recruits to the physical and mental strength needed to succeed as a Navy SEAL.
Recruits start their journey at Navy BUD/S Orientation.
During this phase, students learn about the Naval Special Warfare Center and what they can expect at BUD/S.
Navy SEAL instructors introduce students to fitness training like swimming and the obstacle course to prepare the recruit for the 1st Phase of BUD/S.
Each phase of BUD/S training includes a timed physical fitness test, with requirements becoming more vigorous as they progress through the training.
Phase 1
The first phase of BUD/S takes approximately seven weeks to complete.
The primary focus of 1st phase is to prepare candidates for the physical challenges of being a SEAL.
Every week, Sailors must complete 4-mile timed runs in boots along with an obstacle course and conduct open ocean swims in distances of up to 2 miles wearing fins.
The demands get more challenging every week you progress, which makes BUD/S exhausting a recruit and testing their physical limits.
Hell Week
"Hell Week" takes place around the fourth week of BUD/S training.
During this grueling week, recruits participate in 5 ½ days of continuous training with a maximum break of four hours to sleep.
"Hell Week" is intended to serve as the ultimate physical and mental test to identify who has what it takes to become a Navy SEAL.
Surviving "Hell Week" requires perseverance, hard work, dedication, and teamwork at a level necessary to operate at the level of a Navy SEAL.
This 5 ½ weeks will weed out students who aren't ready to be a SEAL, whether they know it or not.
Following Hell Week, "Walk Week" introduces candidates to various methods of conducting hydrographic surveys, charts, and land navigation.
Phase 2
BUD/S second phase focuses on combat diving.
Combat diving is critical to Navy SEAL operations and requires you to become a master swimmer and diver.
While physical fitness training continues during 2nd phase, it's not quite as physically intense, and the bulk of your activity will focus on SCUBA operations.
Navy SEALs undergo open and closed-circuit SCUBA training at BUD/S, becoming intimately familiar with their diving equipment.
Phase 2 also teaches students swimming and diving techniques to become more efficient in the water since Navy SEALs often depart from a ship, dive, and swim to a combat objective.
Students test out of 2nd Phase by completing a timed 2-mile swim and a 3.5-mile and 5.5-mile swim.
Those who complete 2nd phase demonstrate a high level of comfort in the water and the ability to respond to stressful environments.
Phase 3
The final phase of BUD/S is the demolitions, reconnaissance, and land warfare segment.
Physical fitness training continues throughout this phase as students prepare for their final PST, enduring more strenuous runs and swims and facing new challenges navigating the obstacle course.
Third-phase training primarily focuses on land navigation, rappelling, patrolling, explosives, and infantry and small-unit tactics.
Phase 3 is the point in BUD/S training where students finally see their hard work pay off and become masters of their craft.
Classroom instruction in land navigation and basic weapon skill sets also occur during this fast-paced learning phase.
The second part of the 3rd Phase moves the training location to San Clemente Island, California, commonly called "The Rock."
At The Rock, students will apply their classroom learning as they endure a realistic day of Navy SEAL operations while handling live explosives and ammunition, which makes this portion of SEAL BUD/S training particularly dangerous.
Finally, students will complete their final PST, which requires prospective SEALs to complete a 2-mile ocean swim with fins and two long-distance runs (one with boots, one without).
Jump School
After candidates complete BUD/S, they advance to the Navy Parachute Jump School, which is much shorter, only lasting a few weeks, and is located at the Army Airborne School in Fort Benning, Georgia.
To graduate from the program, recruits must complete a series of jump progressions, with their final descent being a nighttime combat jump from a minimum altitude of 9,500 feet.
Jump School represents the final step before reporting to their first Naval Special Warfare Command to begin SEAL Qualification Training (SQT).
SEAL Qualification Training (SQT)
SQT lasts another 26 weeks and combines all the skills learned throughout BUD/S into intense training operations.
This final training phase develops a SEAL's skill to a more advanced level, including advanced weapons training, land navigation tactics, and cold weather survival conducted in Kodiak, Alaska.
Upon completing SQT, a recruit will finally receive the highly respected and highly sought-after SEAL Trident, officially designating them a U.S. Navy SEAL.