Have you ever wondered what branch offers the best expert sniper training in the military? Imagine spending weeks mastering precision, patience, and survival skills. The heart of this journey lies within military sniper training, where ordinary soldiers transform into elite marksmen.
These are no ordinary classrooms – think instead of harsh terrains serving as learning grounds, pushing boundaries physically and mentally. But it's not just about pulling the trigger; there's an art to being unseen, unheard, yet deadly accurate.
In this deep dive, we'll unlock doors to prestigious institutions like the US Army Sniper Course and GPS Defense Sniper School. We'll explore their rigorous training programs tailored to Navy SEALs, Marines, or law enforcement personnel.
So, get your metaphorical ghillie suit ready. We're about to embark on a journey down the hidden paths of resilience and endurance that guide us towards…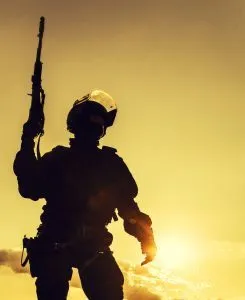 Sniper Training Table of Contents:
United States Army Sniper Training
The U.S. Army's premier sniper training program at Fort Benning is a beacon for those aspiring to be army snipers. This comprehensive course demands commitment and skill, shaping raw recruits into elite marksmen.
Prerequisites for the U.S. Army Sniper Course
Getting your foot in this prestigious institution's door isn't easy; it needs specific qualifications. First, prospective students need an Expert rifle qualification within six months before attending the course – no mean feat. Besides technical prowess with weapons systems, they must also pass a physical fitness test that measures their strength and endurance levels.
Beyond these prerequisites, candidates must demonstrate exemplary fieldcraft skills such as target detection and range estimation abilities under varying conditions like unknown distance or moving target scenarios – all while donned in camouflage clothing or ghillie suits.
Outcomes of the U.S. Army Sniper Course
This 29-day resident program goes beyond hitting targets from great distances; it imparts critical tactical knowledge. "Snipers are force multipliers" echoes throughout Fort Moore, emphasizing how graduates will enhance team effectiveness on completion.
Apart from mastering precision rifles during detailed platform operations sessions on military installations (like Fort Benning), participants also gain experience working as part of a sniper team through intensive exercises focused on coordination and communication — core aspects required by any successful army sniper.
GPS Defense Sniper Training
The GPS Defense Sniper School is highly respected among elite military and law enforcement agencies. Its reputation has been solidly built since its inception in 1998.
Job-Specific Training at GPS Defense Sniper School
This school offers unique training programs tailored to the needs of various groups. Whether you're from the army, Navy Seals, marines, or part of a police force looking for advanced sniper tactics – this place has got you covered.
Veteran instructors lead students through rigorous courses designed to enhance their skills with precision rifles and understand detail dignitary protection procedures. The knowledge gained here can be directly applied to field missions and platform operations within military installations.
A notable aspect that sets it apart is its focus on teaching snipers how to hit moving targets at an unknown distance effectively – a skill crucial in real-world scenarios but often overlooked elsewhere. This approach shows they prioritize practicality over theory alone.
Besides hard-hitting facts and techniques about weapons systems like sniper rifles, prospective students also get valuable insights into team concepts essential when working within tight-knit sniper teams or even larger tactical formations such as special forces units or national guard troops.
Testimonials from past attendees attest to the quality of instruction provided by these seasoned professionals who have first-hand experience under their belts – proving that they not only talk but walk the walk, too.
Over the years, more than 40 military units and various law enforcement agencies have benefited from this esteemed institution's offerings. If you aim to sharpen your skills or aspire to join the ranks of top-tier snipers – GPS Defense Sniper School should be on your radar.
Navy SEALs and Marine Corps Sniper Training
Regarding Navy SEALs and Marine Corps sniper schools, the training is as rigorous as you might expect. The skills imparted are second to none, focusing on hitting targets at unknown distances, even moving ones.
The journey starts with boot camp, where prospective snipers get their first taste of military life. They learn discipline, teamwork concepts, and basic fieldcraft skills like using ghillie suits for camouflage clothing. These foundations lay the groundwork for future sniper candidates.
Precision Rifle Training: More than Just Pulling a Trigger
Beyond boot camp lies the real test: precision rifle training. Here's where things heat up – students must master range estimation techniques under pressure and quickly adjust their shooting strategy based on changing conditions such as wind speed or light levels.
This stage involves advanced lessons in detail-dignitary protection procedures, providing essential know-how for any shield operator-instructor program participant.
Social Media Policy in Military Education
A crucial aspect that isn't always considered when discussing Navy SEAL or Marine Corps education is social media policy adherence; today's soldiers must be savvy with weapons systems and online platforms operations because they play an increasingly important role in modern warfare strategies.
Law Enforcement Sniper Training
When it comes to sniper training for law enforcement personnel, specialized programs play a pivotal role. These schools provide rigorous preparation to equip officers with the skills they need in high-stakes situations.
Sniper Response Tactics in Law Enforcement
In these settings, snipers are often called upon during tense standoffs or hostage scenarios. Signature law enforcement courses, like those at police sniper schools, focus on teaching response tactics that can de-escalate dangerous situations from afar.
This type of training equips officers with the knowledge and skill set needed to assess threats accurately and make split-second decisions under pressure. They learn to handle moving targets and use their environment as force multipliers—leveraging wind direction, temperature fluctuations, or even altitude differences—to improve accuracy.
Courses also include detailed instruction on gear selection—a critical component for any sniper operation—and hands-on practice sessions that mimic real-world conditions. Officers work with different weapons systems and learn about advanced technologies used in modern policing operations.
The goal is not just proficiency but mastery—emphasizing safety, ethical considerations, communication within a team setting (particularly important when coordinating responses), threat analysis & decision-making—all critical components of effective sniper response tactics.
The Role of Sniper Training in Armed Services
Sniper schools play a critical role in the armed services. They are specialized training centers where soldiers learn to use precision rifles, estimate range accurately, and blend into various environments using camouflage clothing.
A crucial part of sniper school is developing fieldcraft skills – techniques for surviving and moving stealthily outdoors. Soldiers practice with ghillie suits, camouflaging themselves against terrains like deserts or dense forests.
The United States Army Sniper Course at Fort Benning, one of the best military sniper schools worldwide, equips students to hit targets and effectively engage unknown distance and moving targets.
Force Multipliers on the Battlefield
In modern warfare, snipers serve as force multipliers, significantly increasing combat effectiveness. Their ability to strike from a degree range far beyond ordinary infantry makes them invaluable assets during operations.
Besides taking out high-value targets without risking lives on close-quarter engagements, they provide valuable real-time intelligence about enemy movements due to their advanced surveillance abilities learned through detailed training programs such as GPS Defense Sniper School's courses.
Military Installation Impacting Social Media Policy
An interesting side effect has been how these skilled marksmen have influenced social media policy within the armed forces globally. The rise of personal cameras combined with platforms like Facebook has led some snipers to share experiences online – prompting updated guidelines around operational security (OPSEC).
So, while sniper schools train the sharpshooters of tomorrow, they also impact broader military culture and policy.
Physical and Mental Challenges in Sniper Training
Pushing beyond the limits of endurance, sniper schools demand physical prowess and mental tenacity. It's not just about hitting targets at an unknown distance or mastering moving target techniques. The challenge runs deeper.
Physical Training in Sniper Schools
Military installation-based training often starts with a boot camp that tests strength, agility, and resilience. From handling precision rifles to donning ghillie suits for camouflage, students learn how to operate under extreme conditions.
The rigors extend from carrying heavy gear across rugged terrains to maintaining absolute stillness during target detection exercises for hours. A typical day could include range estimation drills on desert terrain or scaling rugged northern Arizona landscapes as part of mobile training teams like those based on the 1st Armored Brigade Combat Team.
Mental Toughness Required for Sniper Training
Beyond the physical trials lies another battlefield – the mind. Being an army sniper is more about psychological fortitude than fieldcraft skills or understanding weapons systems.
In scenarios such as detail-dignitary protection missions or team concepts-based assignments involving scout snipers and shield operators-instructors programs, making quick yet calculated decisions can mean life or death. For instance, Fort Benning's US Army Sniper Course emphasizes mental toughness through problem-solving tasks under high-pressure situations.
Dealing with isolation, enduring stress and fatigue, and maintaining focus during prolonged missions form part of the mental toughness training. Ultimately, it's not just about being a good shot; sniper schools shape soldiers into force multipliers on the battlefield.
FAQs to Military Sniper Training
How long is sniper school in the military?
Military sniper schools usually last around six to twelve weeks, depending on the branch and specific program.
What branch of the military is best for snipers?
The Marine Corps and Army are traditionally known for having vital sniper programs. Yet, every service has its strengths.
Is there a U.S. Army Sniper training?
Absolutely. The U.S. Army Sniper Course at Fort Benning is a renowned training program that shapes top-tier snipers.
What military branches have snipers?
All main branches of the U.S. Military – including the Navy, Marines, Air Force, and Army – train their snipers.
Sniper Training Conclusion
So, we've ventured into military sniper training, where precision meets patience, and survival skills are honed to perfection. The journey is arduous, demanding both physical prowess and mental resilience.
We explored institutions like the US Army Sniper training, which offers an intense curriculum that forges ordinary soldiers into skilled marksmen. We delved into GPS Defense Sniper training's unique offerings tailored to elite military units and law enforcement agencies.
The roles of snipers in Navy SEALs or Marines were highlighted, too; these professionals serve as silent force multipliers on any battlefield. Let's not forget our brave law enforcement personnel who benefit from specialized training programs focusing on tactics specific to their line of duty.
In essence, it's clear – becoming a sniper isn't just about hitting targets at unknown distances but mastering fieldcraft skills while pushing personal boundaries.