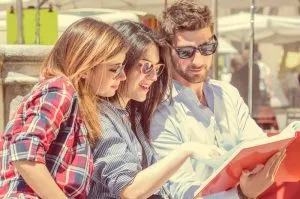 Have you ever had the feeling of standing in line, brimming with anticipation as you await your turn at a grand buffet? Now, imagine that buffet filled not just with delicious food but also an array of deals and discounts. That's what Veteran Day Deals feel like – a banquet laid out to honor those who've served our nation.
The catch, though?
You need to know where this lavish spread is being hosted! You might have heard about free meals or car washes for veterans on this day. But did you know it goes far beyond these typical offers? Have you ever wondered about coffee houses serving gratitude in mugs or sports bars creating special menus for our heroes?
Let's get moving! We're about to plunge into a world of deals, from restaurants to cafes and beyond. Here's a little sneak peek: Golden is gearing up to shower us with some incredible discounts!
Veteran Day Deals Table Of Contents:
Veterans Day Deals: A Comprehensive Guide to Discounts and Freebies
When it comes to Veteran's Day deals, many businesses pull out all the stops. These discounts and freebies are not only about sales – they're a way to show gratitude for those who have served our nation.
We'll cover some top spots where active-duty military, retired personnel, and their family members can score great deals this Veterans Day.
Biggby Coffee Veterans Day Deal
Biggby Coffee has been an avid supporter of veterans over the years. Their tradition is brewing something special on Veteran's Day. They give free brewed coffee to active duty service members and retired military personnel every year.
The specifics are yet to be updated for 2023, but you can bet Biggby will have something in store for our heroes.
Starbucks Veterans Day Offer
Even liberal-leaning Starbucks, known globally not only for its excellent coffee but also its dedication to honoring military service, usually whips up exciting deals around Veteran's Day, too. In past years, Starbucks has offered free coffee or discounted items from select menus specially curated for the occasion.
This coming 2023, we expect no less than another round of memorable offerings from them.
– Stay tuned with us at USMilitary.com
– We honor those who've served
– We make sure you're up to date with the best Veterans Day deals and discounts
As a token of our appreciation, we want to ensure you get the best out of Veterans Day 2023. So mark this page, check back often, and let us help you get the most out of Veterans Day 2023.
No matter where you are, we're here to assist with your Veterans Day 2023 needs.
Free Meals and Discounts for Veterans: A Token of Gratitude
Veterans Day brings a wave of gratitude towards those who've served in our armed forces. Many businesses, especially restaurants, express their thanks by offering free meals or discounts to veterans. Let's look at two establishments known for their generous Veterans Day deals.
Golden Corral's Generous Offerings
Golden Corral, an American restaurant chain famous for its buffets, has been known to offer free meals on this special day. In past years, active-duty military personnel and retired military could enjoy Golden Corral's vast selection without spending a dime.
This year's specifics are yet to be announced, so check back closer to the date. Their gesture is more than just about giving out food; it reflects their commitment to honoring those who have dedicated themselves to the service of our nation.
Chili's Special Menu
Apart from buffet-style dining places like Golden Corral, there are also sit-down eateries that join in showing appreciation during Veterans Day – one such establishment being Chili's Grill & Bar.
In previous years, Chili's had offered a select menu with several choices ranging from Oldtimer burgers with cheese to Chicken Crispers – all available as a complimentary meal for active-duty service members and retired military personnel. While the details for 2023 aren't updated yet, we expect nothing less than another tasty show of support from Chili's come November 11th.
---
All these gestures help foster a sense of community and respect for our veterans. It's not just about the grub or bargain, but instead the acknowledgment and admiration that go with it. We salute all establishments trying to honor those who have served – so stay tuned for more updates on Veterans Day deals.
Key Takeaway:
Businesses like Golden Corral and Chili's Grill & Bar show their gratitude to veterans with free meals or discounts on Veterans Day. These generous offers aren't just about the food but a way of honoring those who've served our nation. Watch for more updates as we get closer to Veterans Day.
Restaurants and Food Chains Offering Veterans Day Deals
Veterans Day is a special occasion where we pay tribute to those who've served in the military. And what better way to honor them than with some tasty deals from various restaurants and food chains? These establishments are showing their appreciation by offering exciting discounts.
Bonefish Grill's Veterans Day Discount
If you want an upscale dining experience this Veterans Day, consider visiting Bonefish Grill. They often offer significant discounts for veterans on this day. While they haven't announced specifics yet, keep checking their website as the date gets closer.
Their past offerings have included reduced prices on select dishes or even entire meals at participating locations. So, whether you're craving fresh seafood or one of their famous steaks, there's likely a deal waiting for you if you hold valid military credentials.
Carrabba's Special Offerings
For fans of Italian cuisine, Carrabba's has got your back. In previous years, they've offered generous deals like free entrées to active-duty service members and retired personnel on Veterans Day.
We expect them to continue honoring our heroes with similar offers in 2023. Remember that these specials typically require proof of duty service at most Carrabba's locations nationwide – so make sure your ID is handy.
In addition to enjoying mouthwatering Italian dishes like chicken marsala or fettuccine Weesie at discounted rates (or even free.), veterans can also take pride in knowing they're being appreciated by these establishments for their brave service to the nation.
While we've highlighted just two restaurants here, there are many more that offer Veterans Day deals. From free meals at popular chains like Golden Corral and Chili's to discounts on coffee from Biggby Coffee or Starbucks – you'll find plenty of ways to make your day extra unique while saving some cash.
We want to reach out to everyone.
Key Takeaway:
This Veterans Day, treat your taste buds to special deals from restaurants like Bonefish Grill and Carrabba's. Keep an eye on their websites for specific offers as the day approaches. And remember, it's not just about scoring a great meal at a discount or even free – it's also about feeling appreciated for your service. From fine dining to coffee shops, numerous places want to say 'thank you' with delectable dishes and comforting cups of joe.
Freebies and Discounts Beyond Food: Other Offers for Veterans
Veterans Day isn't just about food freebies. Many businesses extend their gratitude to veterans with various other deals, offering everything from car washes to shopping discounts.
Take the popular chain Brown Bear Car Wash, for instance. They typically give out complimentary car washes to both active military personnel and retired military personnel on Veterans Day. It's not only a kind gesture but also a practical one – who doesn't love having a sparkling-clean vehicle?
Beyond auto care, retail outlets also join in honoring our nation's heroes by giving exclusive Veterans Day deals. For example, many stores offer generous discounts designed explicitly for current military members and those who've previously served.
Lowe's, a renowned home improvement retailer, extends an appreciation discount every day of the year. But they ensure it gets special attention during November – Military Appreciation Month.
The Great Outdoors Welcomes You.
If you're more into adventures than shopping or cars, we have something up your alley, too. The National Park Service opens its doors wide on this day, providing free admission not only to active-duty service members but also to their families.
This deal offers veterans and their loved ones an opportunity to enjoy America's natural beauty without any entrance fee hassle at hundreds of locations nationwide.
A Healthy Mind is Just As Important
Gyms like Gold's Gym also roll out the red carpet for our veterans with complimentary visits and discounted membership deals.
Some yoga studios even offer free classes, understanding that a sound mind is just as crucial as a fit body in leading an enriched life post-service.
The essence of these offers goes beyond saving money. They are giving back to those who have done so much, surpassing the financial benefit.
Key Takeaway:
From car washes to shopping sprees, Veteran's Day deals aren't just about free food—businesses like Brown Bear Car Wash and Lowe's offer practical perks for active and retired military personnel. Even outdoor enthusiasts get a nod with free admission from the National Park Service. And let's not forget about health – gyms and yoga studios join in, promoting healthier lifestyles by offering special discounts explicitly tailored for our brave servicemen and women.
Celebrating Veterans Day at Bars and Sports Bars: Deals and Discounts
Every year, bars across the nation take part in celebrating our veterans by offering special deals. A small way to demonstrate gratitude for their dedication to our nation is the offering of discounts and deals.
Hooters' Special Deals
One sports bar that leads the way in honoring veterans is Hooters. Known for its lively atmosphere, Hooters offers exclusive deals to active-duty military personnel and retired military heroes on Veterans Day. While we wait for specific details about this year's deal, previous years have seen free entrees from a select menu offered as thanks.
It's not just about the food, though. Hooters ensure that it goes beyond grub – they also provide an environment where camaraderie can thrive among fellow servicemen and women over some hearty laughs.
Buffalo Wild Wings' Salute To Service
Apart from Hooters, another popular spot joining in these celebrations is Buffalo Wild Wings. Every Veterans Day sees them hosting their 'Salute to Service', providing discounts specially tailored towards active-duty service members and retired military personnel alike.
In past years, they've offered free wings or discounts off combo meals – something worth checking out when November rolls around.
Texas Roadhouse's Tribute Menu
If you're more into steak than chicken wings, Texas Roadhouse should be your destination this Veterans Day. This well-loved restaurant chain has been known to offer special menus featuring discounted rates designed explicitly with veterans in mind. What better way could there be than feasting on a succulent steak while enjoying substantial savings?
On Veterans Day, honor our brave servicemen and women by visiting these bars to take advantage of the special discounts they have on offer. It's not merely about taking pleasure in a delicious steak and receiving great value – it is also regarding recognizing those who have devoted so much to safeguard our nation.
Key Takeaway:
November 11th. Swing by your favorite bars like Hooters or Buffalo Wild Wings to enjoy these fantastic deals. You'll not only get to enjoy tasty food at great prices but also share stories and create bonds with fellow servicemen and women in a space that honors both active-duty and retired military heroes.
Veterans Day Deals: From Pizza to Cafes, More Freebies Await
When Veterans Day rolls around, many restaurants and cafes stand ready to honor our active-duty military and retired personnel with free meals and discounts. These deals are not just limited to traditional dining spots but also include popular pizza places.
Pizza Veterans Day Deal
A hot slice of appreciation comes from your favorite pizza chains. For instance, Little Caesars has been known for its combo meal deal exclusive to veterans today. With their offer typically including a free lunch combo, it's something you wouldn't want to miss out on.
Not only does this extend gratitude towards our heroes in uniform, but it is also an excellent opportunity for families of active-duty service members or retired military personnel to enjoy a delicious treat together at reduced prices or even wholly complimentary.
Cafe Veterans Day Offers
Moving away from the cheesy delight that pizzas provide, let's head over towards the cozy ambiance of cafes offering some steaming deals. On previous occasions, Starbucks allowed veterans to relish brewed coffee free of cost as part of their Veterans Day deal.
The warmth doesn't stop there. Dunkin Donuts has often joined hands in saluting our troops by giving them access to free breakfast options on November 11th every year. This makes sure that no soldier starts their special day without being served with due respect and affection.
Beyond Food: Additional Perks.
Apart from satisfying taste buds, more freebies and discounts are awaiting our brave men and women. Businesses across various sectors join in to honor the veterans' service.
For instance, some car wash services offer a complimentary clean-up of your vehicle on Veterans Day. This not only helps active-duty military personnel keep their cars sparkling but also serves as a small token of gratitude for their dedicated service. Although the experience might seem simple at first glance, it's significant and reflects our collective appreciation.
Key Takeaway:
That our veterans feel the love and appreciation they deserve, from complimentary meals at renowned restaurants to free car wash services, every small gesture contributes to honoring their service and sacrifice. So, this Veterans Day, let's show our military heroes how much their bravery means to us.
FAQs about Veteran Day Deals
Does Chick-fil-A have a deal for Veterans Day?
Chick-fil-A's deals on Veterans Day vary by location. It's best to check with your local store about their offerings.
Does Apple do anything for Veterans Day?
Apple doesn't typically offer specific Veteran's Day deals, but they do have year-round discounts for military and veterans.
What do you get a veteran for Veterans Day?
A heartfelt thank-you note, attending a parade together, or donating to organizations that support veterans can make them feel appreciated.
Does Red Lobster do anything for veterans on Veterans Day?
In the past, Red Lobster has offered complimentary appetizers or desserts to active-duty military and veterans on Veteran's Day. Check locally near the date.
Veteran Day Deals Conclusion
Veteran Day Deals are more than just a way to save. They're a heartfelt token of gratitude for our brave service members.
Remember, these deals range from free meals at popular restaurants like Golden Corral and Chili's to discounts at food chains such as Bonefish Grill and Carrabba's. Keep your eyes peeled for updates on each establishment's offer this year.
But it doesn't stop there. Beyond the delicious bites, remember businesses often extend their appreciation through other perks – think car washes or special offers in sports bars!
All you need is patience and some savvy deal-hunting skills. And let's not forget – active-duty military personnel and retired military personnel alike can make the most out of these offers.
Celebrate Veterans Day with both honor…and savings!