There are a few different factors to consider if you want to know which military branch sees the most combat. You may think it would be USMC but technically, it's going to be the US Army, but that's just by the numbers.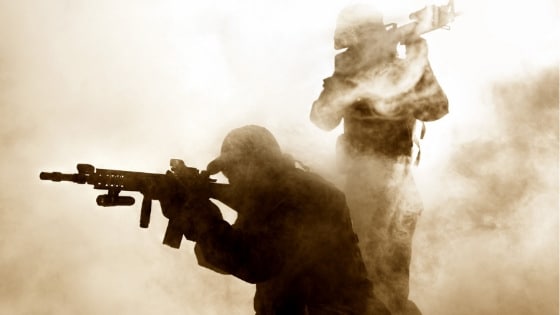 Military Branches by the Numbers
In total, there are 1,359,685 active duty personnel in the United States armed services and 799,845 in reserve in a recent year. In the US Army specifically are 471,513 persons.
In contrast, the Marine Corps or USMC has over 180,000, the Navy has 325,000+, the Air Force has 323,000+, and there are just over 42,000 in the Coast Guard. Meanwhile, the National Guard has 336,000+, there are over 190,000 in the US Army Reserves, 38,000+ in the Marine Corps Reserve, 57,000+ in the Navy Reserves, 106,000+ in the Air National Guard, 68,000+ in the United States Air Force Reserve, and just 6,000+ in the Coast Guard Reserves.
Infrastructure, Support, and Combat Units
By far, the biggest branch of the military is the Army. They're going to be involved in the majority of land-based operations, so the infantry often sees combat. However, the majority of military positions have nothing to do with combat–an organization so large requires operational infrastructure and specific support. Specific divisions are often organized into combat units, some quite elite.
For example, consider the Navy SEALS. What the military does is refine human resources into defense and combat personnel that effectively accomplish larger goals. Specific combat units take multiple roles in battle. There's land, air, and sea support, and there are special forces units that will prepare the way for infantry in a combat zone. Essentially, ten wings of approach represent primary initial combat:
Marine Raiders
Green Berets
Delta Force
Navy SEALs
Army Rangers
Force Recon Marines
Carrier-Based Aircraft
F-22 Fighter Wings
Naval Ships
509th Bomb Wing
Marine Raiders
Reconnoitering, direct action missions, and counterinsurgency are chief duties of the Marine Raiders. With a lineage stretching back to WWII, this branch of the Marine Corps has a deep history of conducting raids, leading beach assaults, and conducting guerilla operations against the Japanese during that profound conflict.
Green Berets
Green Berets are known as the Army's special forces. These were some of the first in Afghanistan, to ride horses to meet the enemy's challenge. The Green Berets guarded then-unknown politician Hamid Karzai. Later, this politician would put together a militia to help aid the American invasion.
These special forces operatives have been involved in many conflicts the world over, though often this involvement receives no publicity.
Delta Force
The best of the best operators in the DoD (Department of Defense) and Green Berets become Delta Force. This military "A-team" leads missions with the highest stakes, and goes far in advance of the military. Delta Force hunted through the mountains of Tora Bora in 2001 hunting Osama Bin Laden.
Navy SEALS
Delta Force hunted Bin Laden, the SEALS got him in Pakistan. The SEALS have a venerated reputation since they were "frogmen" in WWII. Remember the Somalian pirates who captured Captain Richard Phillips? SEALS saved his bacon. Chris Kyle, a legendary sniper, was a SEAL. When it comes to ground-related combat, the Navy's best men are SEALs. But these skilled men are also exceptionally capable underwater.
Army Rangers
Army Rangers have a history stretching back to 1775. When D-Day hit during WWII, the Army Rangers were in strategically necessary positions. During Operation Just Cause, Army Rangers led the way to Panama. During the Somalian conflict, they also played a huge role, and conducted operations throughout Iraq and Afghanistan.
Force Recon Marines
Force Recon Marines go ahead of commanders on the ground. Getting beyond other forces, these specially trained soldiers provide eyes-on intelligence into any area where those needing information aren't able to look. There's a miniseries that got some level of popularity called "Generation Kill", and it followed Force Recon Marines through the Iraqi invasion as they fed Mad Dog Mattis and other senior leaders key data.
Carrier-Based Aircraft
Carriers in the Navy are little cities on the sea that act as airports for fighter jets launched to defend America. Air strikes come quick and hard, and have been conducted in Syria, Afghanistan, and Iraq. The Navy Super Hornet and Marine Corps Harriers often fly missions.
F-22 Fighter Wings
This group hasn't been the front wave of an invasion, but they've been exceptionally integral in Syria. They hit the fight a month after airstrikes to stop ISIS began. Slipping past the defenses of the enemy, these skilled pilots took out key targets. When not doing this, F-22 fighters escort jets through enemy air defenses.
Naval Ships
The Navy launches many of the starting blows that make up a conflict with cruise missiles designed for long-range targets. Destroyers, cruisers, and submarines have been involved in such launches. Notable missions include action in Syria, Iraq, Afghanistan, Kosovo, and Sudan.
509th Bomb Wing
America's B-2s and stealth bombers are part of the 509th Bomb Wing. These stealthy bombers sneak through the airspace of the enemy, destroying runways, defenses, and strategic targets before those threatening America's interests even realize what hit them. Afghanistan, Iraq, and Kosovo missions are notable to the 509th. Many missions started in Missouri and ended there, taking approximately 30 hours.
The Highest Combat
Certainly, in sheer numbers, the Army sees the most action. But owing to the way combat works, there are units steeped in combat across all branches of America's armed services. It just depends on the military situation requiring armed services intervention.