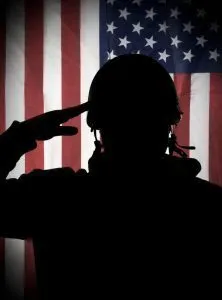 Have you ever paused to consider the magnitude of thank you veterans? Like a thread running through the fabric of our nation, each strand represents sacrifice, dedication, and valor. A child's first salute at a parade, hands over hearts as Old Glory unfurls against azure skies – these are fragments in our collective consciousness.
A debt paid in bravery; service members standing sentinel on freedom's frontier so we can live free. Their stories whisper like dog tags jingling around their necks – stories that echo across battlefields and military families back home.
This isn't just about one day of honor or some abstract concept but real people who've proudly served. What does it mean for them? For us? Let's journey together into this landscape painted with red-white stars and stripes – where heroes don't always wear capes but often carry rucksacks instead.
Table Of Contents:
Understanding Veterans Day and Its Significance
Veterans Day, observed each year on November 11th, is a national holiday that honors those who have served in the Army, Navy, Air Force, and Marines. This special day serves as an opportunity to express our deep gratitude for their sacrificing time and making the ultimate sacrifice to protect this great nation.
The Origin and Evolution of Veterans Day
In order to understand its significance, it's essential to explore how Veterans Day came into existence. Originally known as Armistice Day to honor veterans of World War I, President Eisenhower signed legislation changing it to Veterans Day to recognize all individuals bravely serving in different conflicts. However, after World War II and the Korean War witnessed more Americans serving valiantly abroad – many losing their lives in service – President Eisenhower signed legislation changing Armistice Day into what we now know as Veterans Day.
This evolution signifies recognition not only for those who fought in one particular war but all individuals bravely serving across different periods of conflict.
The Difference Between Veterans Day and Memorial Day
Many people often confuse Memorial with Veterans Day because both holidays recognize military personnel's dedication. But there is a distinct difference between these two important occasions: While Memorial pays tribute specifically to service members who lost their lives defending our country's freedom; conversely, Veterans Day celebrates all past U.S soldiers – whether they are living or dead – by appreciating their selfless commitment towards safeguarding our democratic values.
Remember: It doesn't just stop at acknowledging them once a year. Let us continue to honor their service and sacrifices daily by understanding our history, supporting veterans in need, and instilling the importance of freedom in future generations. As we enjoy this free country under the red-white stars, let's never forget that heroes don't always wear capes – some wear dog tags.
Key Takeaway:
Veterans Day, observed every year on November 11th, is a heartfelt tribute to all those who've served in our military forces. We express deep gratitude to the courageous men and women of the Army, Navy, Air Force, and Marines. Initially known as Armistice Day following World War I's conclusion, it was eventually broadened to recognize veterans from all wars.
Honoring the Service of Veterans
When we say "Thank You, Veterans", it's more than just a phrase. It's an expression of deep gratitude and respect for those who've donned uniforms, dog tags, and braved hardships to keep us safe.
Messages from everyday citizens like you can make all the difference in reminding our veterans that their service matters – today on Veteran's Day and every day.
Expressions of Gratitude
Saying 'Happy Veterans Day' is one way we express our appreciation. But there are so many other ways to convey sincere gratitude. Let's consider writing letters or volunteering at local veteran organizations as some examples. They might seem small actions but they hold profound meaning for those who have served.
The key stats tell us how much these brave men and women deserve this recognition; Many veterans have faced unimaginable challenges serving in combat zones worldwide. Yet, despite the trials they've endured, their commitment never wavers – a testament to their unwavering dedication to protecting this great nation.
In reality, though, honoring them isn't confined to just saying "thank you". Instead, it's about recognizing that because of them – each one among millions – we live free within a country protected by true heroes wearing not capes but military fatigues with pride.
Above all else remember: Whether active military personnel or retired servicemen/women now spending time with close family after years away from home- Each has proudly served in keeping Americans safe while holding high up the red-white-and-blue flag studded with white stars, symbolic of the freedoms we cherish.
So next time you see a veteran or an active service member, don't just say 'Happy Veterans'. Take a moment to show deep respect and express sincere gratitude for their sacrifices. After all, thanks to their efforts we are able to live in this nation of liberty.
Key Takeaway:
Expressing gratitude to veterans goes beyond saying 'Happy Veterans Day'. It's about deeply recognizing their service, sacrifices, and resilience. From writing heartfelt letters to volunteering at local organizations, these gestures of appreciation mean a lot. They remind us that because of our heroes in military fatigues – we enjoy the freedoms of this great nation.
Supporting Veterans and Military Families
The journey from active military to veteran status is a unique transition. It's more than just changing jobs or moving homes; it can be a shift in identity. Family and those in your circle are with you through the transition to veteran status – it's more than just a change of job or place.
Acknowledging the sacrifices made by our service members goes beyond saying "Thank you veterans". Our service members have made tremendous sacrifices to protect our nation, and their families are also a critical part of this effort. Many return home bearing physical wounds or carrying emotional burdens tied directly to their time serving our country.
Military families also play an important role, providing support for loved ones who proudly served in uniform. This may involve anything from navigating health care options, offering mental health support, or simply being there during happy times as well as hard days.
In addition to personal networks, numerous organizations offer help tailored specifically towards veterans' needs—offering everything from job training programs aimed at easing re-entry into civilian workforces through assistance with housing expenses so they can live comfortably post-service.
Military Family Appreciation
Saying "thank you veterans" once a year isn't enough—we should show deep respect daily. For those still actively serving (including National Guard units), let us remember: even heroes wear capes sometimes but often they're sporting dog tags instead.
Support Services
If we want true heroes like ours to stay strong after service ends then we must provide adequate resources designed around what works best for them as individuals rather than relying solely upon general, one-size-fits-all solutions.
Remember: when we say "God bless our veterans," it should not just be a phrase but a call to action. Let's make sure that support doesn't end once they've hung up their uniform and dog tags; let's carry the banner of care and gratitude forward every day.
Key Takeaway:
Recognizing veterans is more than just uttering "thank you". It's understanding their sacrifices and extending help that fits their unique needs. Military families also play a vital role, in providing emotional support and navigating through health care options. Let's make every day a chance to show our deep respect for those who've served.
The Role of the Armed Forces in Keeping Our Country Safe
Brave individuals of the US Navy, Army, Air Force, Marines, and National Guard serve our country selflessly every day to keep us safe. Their dedication ensures that we can live free as Americans.
These heroes wear no capes but bear dog tags with pride. From close family to those who've lost loved ones while actively serving – they're all part of a great nation's military families. They make sacrifices so that others may stay safe.
Their work isn't just about combat operations abroad. A crucial role is also played at home – maintaining peace during national crises or providing help during natural disasters such as hurricanes or wildfires.
A Legacy of Service
Veterans have proudly served this country throughout history – from defending the freedom of speech to ensuring rights for all citizens are upheld under our flag's red white and blue stars. In fact, veterans' contributions go beyond active duty service; many continue their hard work back home by engaging in community projects or contributing to fields like health care after retirement.
It takes deep respect for these true heroes who stood strong against threats faced by America to keep its citizens safe – each story is unique yet bound together by an unwavering commitment to protecting this great country.
Maintaining Readiness
In addition to regular training exercises aimed at keeping skills sharp, ongoing investments are made into modernizing equipment and enhancing strategic capabilities across land, air, and sea domains which let us maintain operational readiness 24/7-365 days a year. Here, you'll find heartfelt messages thanking them for their selfless service.
Stories of Veterans and Their Contributions
The extraordinary fortitude of our veterans stands as a monument to the security of this great country. These brave men and women, heroes who don't always wear capes, have proudly served in various capacities such as the Navy veteran who stood guard over international waters.
A noteworthy tale is about a certain Navy Veteran, whose courage under fire exemplifies why we say 'heroes wear capes'. He made significant contributions while serving his country, reinforcing our deep respect for these true heroes.
These stories not only instill pride but also serve as an important reminder. They show us that hard work doesn't go unnoticed or unappreciated in maintaining freedom. It's no easy task keeping Americans safe, yet they've taken on this responsibility with honor and dignity.
Serving one's country involves more than just active military service. Each soldier plays their part actively serving at home or abroad to ensure peace reigns supreme across our lands – from National Guard units deployed domestically during times of crisis to those stationed overseas defending against potential threats.
We can't forget the sacrifices they've made – time away from close family members, personal comfort forsaken for duty's sake; every day filled with uncertainty yet driven by a commitment towards ensuring everyone else lives free within their homeland borders – A million thanks wouldn't be enough.
Military Families: The Unsung Heroes Behind Our Armed Forces
Behind each member stands a supportive military family making its own share of sacrifices too. Be it managing daily life without them or handling added responsibilities during deployment periods, they truly embody strength and resilience. Our veterans' stories wouldn't be complete without acknowledging these family members who serve in their own unique ways.
Remembering the brave service of our veterans helps us appreciate the freedoms we enjoy today – from freedom of speech to living in a free country. So here's saying "thank you" to all those who have served, are serving, or will serve – for your dedication towards keeping this great nation safe.
Key Takeaway:
our appreciation can be a powerful encouragement. They face immense challenges, putting their lives on the line for us every day. Their dedication and bravery are unmatched, reflecting the best of what it means to be an American citizen. So let's keep showing our gratitude – today, tomorrow, and always – because their service deserves nothing less.
Joining the Military: A Path of Service and Sacrifice
Deciding to join the military is no small feat. It's a path laden with sacrifice, and hard work, but also deep respect from fellow citizens.
Health care, while provided for active military personnel, often comes as an ongoing need due to potential physical and mental health challenges faced by service members during their time in uniform.
Serving in our great nation's armed forces means more than just wearing dog tags or saluting the American flag. The decision involves a commitment that goes beyond oneself – it entails keeping Americans safe at home and abroad.
Military Service: Expectations vs Reality
The glamour associated with joining today might seem appealing initially; however, once you step into those boots – reality sets in quickly. You're actively serving not just your country but every single person who calls this land home.
A million times over you'll be asked to put others before yourself, whether that's helping out close family back home or standing alongside your comrades on foreign soil. That's why they say heroes don't always wear capes; sometimes they wear combat boots too.
Challenges Faced By Veterans Transitioning Back To Civilian Life
Veterans face significant hurdles when transitioning back into civilian life post-service. Finding employment can be challenging given how different military roles are compared to traditional jobs.
Beyond job hunting difficulties lies another daunting challenge – dealing with mental health issues. It's a problem that affects many veterans, requiring the need for ongoing support and understanding from society.
Joining the military is indeed a path of service and sacrifice. But remember this: it's also a journey filled with pride, honor, camaraderie, and love for one's country – an experience like no other.
Key Takeaway:
Choosing to serve in the military is a noble path filled with hard work and sacrifice, but also immense pride. This commitment means more than just wearing a uniform – it's about ensuring safety for all Americans. However, transitioning back to civilian life post-service presents unique challenges like job hunting and mental health issues that need ongoing support.
Expressing Gratitude and Support for Veterans
The respect we have for our veterans goes beyond the boundaries of Veterans Day. Every single day provides a great chance to demonstrate our admiration and backing for these heroic individuals.
Ways to Show Appreciation Year-Round
A simple 'Thank You' can go a long way in expressing gratitude towards veterans. Handwritten letters or cards, especially on special occasions like Veteran's Day, convey deep respect and admiration.
We must also remember that many of them proudly served in combat zones enduring hardships associated with war. So, let's give more than just words; actions speak volumes too. Donations made in their honor, and volunteering at local veteran organizations are ways through which we can express our sincere gratefulness.
Beyond individual gestures, businesses could offer discounts or free services as part of their military family appreciation initiatives. A staggering 69% of successful marketers report having strategies aimed at appreciating the service members all year round – an example worth following.
Patriotic displays during public events like Flag Day make every veteran feel cherished because they symbolize what they fought for – freedom. Let's use such opportunities to pay tribute by displaying the red-white stars gallantly waving in pride.
Furthermore, actively engaging with close family members is another way to extend support as well; after all, they've been there throughout serving alongside indirectly making this great nation safer.
Let us never forget those who lost loved ones while serving either — giving comfort where needed underscores how much you care about their sacrifices.
Last but certainly not least – invite your children into conversations around the importance of service and sacrifice. A trip to a local war memorial or an engaging story about military history could serve as eye-opening experiences for them.
Indeed, each day is another chance to say 'Happy Veterans'. Remember – it's more than just two words; it's an acknowledgment of their hard work and commitment that keeps this great country safe.
Key Takeaway:
It's about sacrifice. It's important to instill in our young ones the value of these brave men and women. Their selfless service shapes our country, and acknowledging this not only educates but also fosters respect and appreciation. So let's continue showing gratitude every day, making a difference where we can.
The Importance of Veterans in Preserving Freedom
Our great nation thrives on the sacrifices made by our brave service members. The sacrifices of our service members have enabled us to maintain the freedoms we cherish today.
It's an incredible accomplishment that these courageous warriors have safeguarded our nation, allowing every individual the right to express themselves. We owe it all to those who proudly served, from active military personnel down to each member of the National Guard. It's because they stood guard that Americans are safe and able to live free.
UAB Human Resources, along with many other organizations, shows deep respect for veterans by offering them support and resources when needed.
Sacrifices Made: More Than Just Dog Tags
The stories behind each set of dog tags represent sacrifice – lost loved ones, mental health struggles or physical scars earned while serving overseas. But these trials didn't deter them; instead, they showed unwavering courage under fire – a testament not only on Veteran's Day but also during ordinary days when hardships were equally real.
Military Families: A Pillar Of Support
Let us not forget about military families too. They bear burdens as well – waiting anxiously at home for news about their close family deployed far away. Their contribution towards preserving this great country is immeasurable yet often overlooked.
Veterans: Not All Heroes Wear Capes
To say 'Thank you' seems hardly enough given what veterans go through so we may sleep peacefully at night. Happy Veterans Day is more than just an annual greeting. It's a commitment to honor their bravery, remember those who've passed, and show appreciation for our freedom.
So here's to all the heroes – Happy Veterans Day. May you always stay strong, continue to keep this country protecting us with your brave service, and enjoy happy times with your loved ones because of the sacrifices you've made.
Key Takeaway:
Our nation's freedom hinges on the courage and commitment of our veterans. They stand guard, allowing us to live free, their sacrifices extending beyond physical scars to emotional hardships endured every day. Remember also the steadfast military families who support from home. Saying 'thank you' hardly seems enough; it's a pledge to honor their bravery daily – not just on Veterans Day.
FAQs in Relation to Thank You Veterans.
How do you say thank you to veterans?
You can express your gratitude by simply saying "Thank You for Your Service". Or, write a heartfelt note or participate in volunteer work that supports them.
What is a famous quote about veterans?
A notable quote from President John F. Kennedy is: "As we express our gratitude, we must never forget that the highest appreciation is not to utter words, but to live by them."
How do you thank veterans and their families?
To show thanks, offer assistance where needed, or donate time or resources to organizations supporting military families. Kind words of appreciation also go a long way.
What can I say instead of 'thank you'?
'I appreciate your service', 'Your sacrifices are not forgotten', and 'We owe our freedom to heroes like you' are alternative expressions of gratitude towards veterans.
Conclusion
So we've journeyed together, exploring the essence of thank you veterans. We've seen their sacrifices and shared in honoring those who served our great nation. Their stories have resonated deeply within us.
We've learned about Veterans Day's significance, discovered ways to show gratitude for brave service members, and explored how military families cope with loved ones' absence. Our hearts are filled with deep respect for these true heroes.
We delved into understanding how they keep our country safe – ensuring that freedom rings from every corner of this land. It's clear: each "thank you" carries weight; it embodies a million thanks for keeping Americans safe.
Moving forward let's not just serve happy times on Veteran's Day but express appreciation year-round. After all, thanking veterans is an everyday duty – a small way to acknowledge their hard work protecting this free country.