Are you interested in joining the Coast Guard? If so, you may want to know the Coast Guard requirements to join, along with the Coast Guard age limit.
The United States Coast Guard, often overlooked in discussions about military branches, plays a crucial role in maintaining our nation's maritime security. This branch of the U.S. Military is responsible for various duties extending far beyond what many initially thought. One primary responsibility of the Coast Guard is to ensure maritime safety. They patrol our waters and perform search and rescue operations when necessary. Whether it's a boater who has lost their way or a ship in distress during a storm, the Coast Guard assists.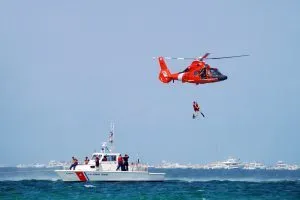 Beyond just safety, another critical duty involves national security. The Coast Guard works diligently to protect America's maritime interests at home and abroad against threats such as terrorism and illegal smuggling activities. Their responsibilities also extend into environmental protection within US waterways – from oil spill response efforts to wildlife conservation initiatives; they play an integral part in preserving marine ecosystems for future generations.
The unique aspect of this particular service branch lies in its dual role as both a military force under the Department of Defense during times of war or on Presidential orders while also functioning as law enforcement under Homeland Security during peacetime. Learn more here about how these roles intertwine within their daily operations. Remember that joining any branch requires commitment – if you're considering serving with them, be sure you understand fully what your obligations will entail.
Coast Guard Age Limit Requirements
To join the Coast Guard, you must be between 17-31 years old. However, suppose you have prior service experience or specific skills in high demand by the Coast Guard (like fluency in a foreign language). In that case, they may consider waivers for individuals up to 40 years old.
Educational Requirements
A high school diploma or equivalent is necessary to enlist in the US Coast Guard; a bachelor's degree from an accredited institution is required for those aspiring to become officers through Officer Candidate School (OCS).
Citizenship Status
You must be a U.S. citizen or a resident alien, with certain exceptions allowed on a case-by-case basis as per U.S. Citizenship and Immigration Services guidelines.
Physical Fitness Standards
The Coast Guard requirements demand physical readiness. You'll need to pass their Physical Fitness Assessment, which includes push-ups, sit-ups, and running within specified times based on your age group.
Moral Character Standards
In addition to these requirements, the prospective members should also meet moral character standards set forth by federal laws and regulations of the Department of Homeland Security – including but not limited to criminal history checks. This ensures that all recruits uphold honor, respect, and devotion to duty – the core values of the US Coast Guard.
Remember, these are just the basic requirements. Each job within the Coast Guard may have additional qualifications that need to be met. Suppose you're considering a career in this branch of service. In that case, it's best to speak with a Coast Guard recruiter who can provide detailed information based on your circumstances and aspirations.
The Impact of Wokeness on Military Recruitment
Undoubtedly, the times are transforming, and with it comes a belief transformation. This 'wokeness,' as it's often referred to, has been making waves across various sectors – and the military isn't exempt.
A heightened focus on social justice issues has caused potential recruits to think twice about enlisting. A Pew Research survey found an increased importance of the social problems among young people. Anecdotal evidence also suggests some cite these concerns as a reason for not joining the military.
Coast Guard Requirements Key Takeaway:
Wokeness is shaking up military recruitment, making potential recruits reconsider enlisting due to social justice concerns. Balancing tradition with progressiveness becomes crucial for the Army, Navy,
Air Force
, and
Marines
in attracting young individuals who value these issues. Military institutions must skillfully uphold their foundational principles to thrive amidst this societal shift while showing commitment toward progressive ideals.