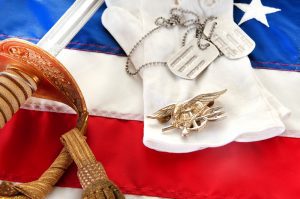 Navy SEAL movies offer a mix of action, drama, and real-life heroism. Making the best Navy SEAL movies required an excellent production storyline for entertainment value, viewership, or ticket sales. Thus, a few may not make this list, i.e., G.I. Jane.
Here's USMilitary.com's list of the top 10 BEST Navy SEAL movies:
1. American Sniper – A gripping biopic about Chris Kyle. An unforgettable movie directed by Clint Eastwood. It's based on the autobiography of Chris Kyle, who was one of the most lethal snipers in American military history. Bradley Cooper plays Kyle, and the film explores his tours in Iraq and his struggles to balance duty and family life back home. The depiction of war scenes is intense, giving viewers a glimpse into what being a sniper entails.
2. Lone Survivor – Based on Marcus Luttrell's true story. Lone Survivor' is a powerful film directed by Peter Berg. It tells the true story of Operation Red Wings, where four members of SEAL Team 10 were tasked with capturing or killing a notorious Taliban leader in Afghanistan. Mark Wahlberg plays Marcus Luttrell, the only member who survived after their mission went wrong. The movie showcases their bravery and teamwork in the face of unimaginable adversity
3. Zero Dark Thirty – Chronicles the hunt for Osama bin Laden. Directed by Kathryn Bigelow, it's based on the decade-long search for al-Qaeda terrorist leader Osama bin Laden after the September 2001 attacks. The story follows Maya, a CIA intelligence analyst, played by Jessica Chastain, who spends years tracking down Bin Laden. The film culminates in the May 2011 military operation where Navy SEALs finally killed Bin Laden. It's known for its gritty realism and intense portrayal of covert operations.
4. Act of Valor – Unique because it stars actual Navy SEALS. Act of Valor' is an action-packed film directed by Mike McCoy and Scott Waugh. This movie is unique because it stars actual Navy SEALs, not actors, in the leading roles. The plot revolves around a team of SEALs on a mission to rescue a kidnapped CIA agent. It gives viewers an authentic look into how these elite soldiers operate in high-stakes situations
5. Navy Seals – Navy Seals' is an action movie from the early 90s directed by Lewis Teague. It stars Charlie Sheen and Michael Biehn as members of a Navy SEAL team. The film follows their mission to recover stolen weapons, showcasing plenty of high-octane stunts. Although it's more entertainment than realism, 'Navy Seals' offers fun insight into this elite military group."
6. SEAL Team Six – The Raid on Osama Bin Laden'- Docudrama based on events directed by John Stockwell. It depicts the events leading up to the raid that killed Osama bin Laden in 2011. The film dramatizes the work of SEAL Team Six, showing their rigorous preparation and execution of this high-stakes mission. Although it blends fact with fiction, it gives viewers an inside look into one of history's most famous military operations
7. Tears Of The Sun – Fictional but showcases the courage of SEALs in conflict zones. Tears of the Sun is a war film directed by Antoine Fuqua. It stars Bruce Willis as a Navy SEAL Lieutenant who leads his team on a mission to rescue a doctor from civil war-torn Nigeria. The movie portrays soldiers' problematic decisions and sacrifices in conflict zones, showcasing action sequences and emotional depth.
8. G.I. Jane – Though not specifically about Navy SEALs, this movie is almost purely fictional. Honestly, Navy SEALs are likely gag-setting through this movie. G.I. Jane' is a drama film directed by Ridley Scott. It stars Demi Moore as Lieutenant Jordan O'Neil, who becomes the first woman to undergo training in the U.S. Navy Special Warfare Group. The movie, at best, explores themes of gender equality and perseverance under extreme physical and mental challenges (politically speaking).
9. The Rock – The Rock' is an action-packed film directed by Michael Bay. It stars Sean Connery and Nicolas Cage, who play a former SAS operative and an FBI chemical weapons expert, respectively. They team up to stop a group of rogue US Marines who have seized control of Alcatraz Island in San Francisco Bay, threatening the city with nerve gas missiles. The movie has intense action sequences and some memorable performances
10. Captain Phillips – Displays the proficiency of Navy SEALs during crises. Captain Phillips' is a gripping film directed by Paul Greengrass. It tells the true story of Captain Richard Phillips, played by Tom Hanks, whose ship was hijacked by Somali pirates in 2009. The movie shows how Navy SEALs intervened to rescue him. It's known for its intense drama and stellar performances."
Each one offers its unique perspective into the lives and operations of these elite warriors. Read other Navy SEAL movies articles on NavySeal.com.
We invite you to email us your favorite Navy SEAL movie for our USMilitary.com subscriber all-time best list to be published soon! Just post your review on this article or email your vote to [email protected].