The Navy SEAL motto, The only easy day was yesterday meaning is a powerful mantra.
It's not just about physical endurance but mental fortitude as well.
This saying embodies the SEALs' relentless pursuit of excellence. It signifies their unwavering determination to overcome any obstacle in their path.
The phrase " The only easy day was yesterday " is a constant reminder that every new day brings fresh challenges and opportunities for growth.
The motto originated with BUD/S graduating class 89 in 1976. Their class motto was presented to the BUD/S command as a parting graduation gift and has been hanging in the BUD/S compound ever since.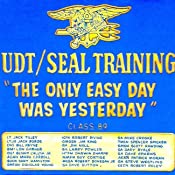 Table of Contents:
Embracing The Only Easy Day Was Yesterday Meaning.
The ethos of the Navy's naval special warfare command is encapsulated in a powerful phrase, "The only easy day was yesterday." This motto, deeply ingrained into every Navy SEAL's psyche, is an unyielding reminder of their dedication to overcoming challenges and pushing boundaries.
Essentially, this SEALs motto teaches one not to rest on past laurels but to strive harder each passing day. The underlying message? If you're looking for an 'easy day,' reminisce over yesterday because today will necessitate even more hard work and commitment.
If we apply this mantra beyond its military context in our daily lives, how can we face challenges head-on? How do we push ourselves harder with each rising sun?
We could start by acknowledging our accomplishments from previous days while still setting loftier goals today.
We might also consider adopting a mindset with no failures, just learning experiences that make us stronger and wiser moving forward.
Last but certainly not least: perseverance should be at the heart of everything we undertake; if it were easy, everyone would do it.
The Grit of SEAL Training
It can appear daunting to face the tough program that constitutes Navy SEAL training. But in reality, these challenges are designed to be overcome.
Here's how you can take inspiration from this rigorous journey and apply its principles.
Facing Unavoidable Hardships Head-On
To become a Navy SEAL, one must endure what is known as "Hell Week." This grueling period during BUD/S and deployment training tests physical strength and mental fortitude. It's about learning to push harder each day with unyielding determination.
For trainees to succeed, they need two things: resilience and grit. The motto 'the only easy day was yesterday' is their guiding light when times get tough. They use it as motivation, fuel for overcoming adversity – something we all could learn from them.
Pushing Past Your Limits Every Day
Navy SEALS don't rest on their laurels – every new day presents fresh challenges that demand even more effort than the previous one. To emulate this spirit means pushing yourself beyond your comfort zone daily – always striving for more today while feeling grateful for yesterday's accomplishments.
Set challenging yet achievable goals each morning. Stay focused and driven by setting challenging yet achievable goals each morning, tackling complex tasks head-on instead of avoiding or delaying them.
Tackle complex tasks head-on instead of avoiding or delaying them. You'll feel accomplished once they're completed.
The key takeaway here? Embrace hard work because growth happens outside our comfort zones.
The Power of Resilience
When it comes to the SEALs motto, resilience is key. This quality truly embodies "The only easy day was yesterday." This isn't just a catchy phrase – it's an ethos these warriors live by.
If you're ready to apply this Navy SEAL mindset in your daily life, here are some actionable steps:
1. Embrace Challenges Head-On
For us to progress and thrive as people, we must face difficulties. Like during SEAL training, where each new day presents its own obstacles, real-life situations aren't any different.
To start incorporating the Navy's Naval Special Warfare Command philosophy into your everyday routine, take on challenges head-on. Instead of shying away from complex tasks or problems – face them directly with courage and determination.
This approach helps you overcome hurdles and strengthens your character, making every 'today' worth looking forward to because tomorrow will be even better.
2. Push Harder Each Day
Persistence is another trait highly valued among Navy SEALs; they push harder than most people can imagine possible. The same principle applies outside military service: if you want something badly enough, work hard until you succeed.
Acknowledge that there are no shortcuts toward achieving goals; it requires constant effort and dedication over time. So remember: always strive for more today than you did yesterday – after all, according to our decorated veteran friends at sea, "the easy days were yesterdays".
Impacting Mindsets Beyond Military
The Navy SEAL motto, "The only easy day was yesterday," has a profound influence that extends well beyond the confines of military life. This powerful saying shapes mindsets and cultivates an ethos of relentless growth and self-improvement.
This mentality is not just for those in uniform or undergoing rigorous SEAL training. It's equally applicable to anyone striving to push their boundaries further each day – whether tackling physical challenges or navigating mental hurdles.
Reminding us that no success is achieved without dedication and effort, this perspective encourages persistence through even the toughest of days – recognizing that with every difficulty overcome comes an increased capacity to take on whatever lies ahead. But it also assures us that we grow stronger and more resilient with every difficult day we overcome, ready to face whatever new challenge tomorrow may bring.
A Decorated Veteran's Perspective
To truly grasp the depth of this principle, let's turn our attention toward decorated veterans who have lived by these words throughout their service tenure. One such veteran shared his experiences at SEAL sniper school, shedding light on how he used this mindset during some of his most challenging times.
This individual emphasized how embracing 'the only easy day was yesterday' helped him conquer intense training sessions while maintaining composure under pressure. The mantra served as motivation and reassurance during demanding missions where failure wasn't an option.
Facing Challenges Head-On:
Moving forward doesn't always mean having all the answers upfront but developing resilience against adversity along your journey, embodying what it means when you hear sayings like 'feel grateful' for past accomplishments yet continue working hard today.
Applying 'The Only Easy Day Was Yesterday' in Daily Life
The Navy SEAL motto, "The only easy day was yesterday," isn't just a mantra for the Navy's Naval Special Warfare Command. This maxim can be adopted into any aspect of life.
Consider how you can apply this philosophy to your daily routines and challenges.
Transforming Challenges into Opportunities
Facing obstacles is part and parcel of our everyday lives. Yet with the right mindset, these hurdles don't have to be setbacks; they could become growth opportunities instead.
This change in perspective mirrors the resilient stories of individuals who faced adversity head-on. They didn't view their struggles as roadblocks but stepping stones towards success – proof that any challenge tackled with hard work and determination becomes an opportunity waiting to happen.
Building Resilience through Hard Work
To fully grasp 'the only easy day was yesterday,' one must comprehend the importance of resilience built on consistent hard work. This doesn't mean merely clocking longer hours; it involves focusing diligently on tasks until they are accomplished satisfactorily – every single time.
Prioritize your goals: Determine what needs tackling first based on urgency or impact, then allocate resources accordingly.
Maintain discipline: Stick to schedules religiously even when motivation wanes because consistency breeds results.
Welcome feedback: Use constructive criticism as fuel for improvement rather than taking it personally.
FAQs with The Only Easy Day Was Yesterday Meaning
The SEALs' motto "The only easy day was yesterday" have meaning?
The Navy SEALs use this motto to instill resilience and perseverance. It means that each new day brings fresh challenges, making yesterday's trials seem easier in comparison.
What is the SEAL motto 'yesterday'?
'Yesterday' refers to part of their famous saying, "The only easy day was yesterday," signifying that they always anticipate and prepare for future challenges.
Whose motto is 'the only easy day was yesterday'?
This powerful statement serves as a guiding principle for one of America's most elite military groups – The United States Navy SEALS.
Conclusion
Embracing the Navy SEAL motto, The only easy day was yesterday, can transform your life.
The BUD/S graduating class 89 first created this motto as a parting gift to the BUD/S command in 1976.
This powerful mantra encapsulates resilience and determination in the face of adversity.
The grueling training that Navy SEALs undergo is a testament to their unwavering grit and tenacity.
They learn to embrace hardships as part of their journey toward achieving impossible goals.
A new day brings fresh challenges for them, reinforcing that every past accomplishment was just a stepping stone for future victories.
This mindset extends beyond military circles, influencing attitudes towards personal growth and combating entitlement mentality.
Inspiring stories abound about individuals who have turned adversities into opportunities using this philosophy.
You can also apply these lessons in your daily life by facing challenges head-on, pushing yourself harder each day, appreciating past accomplishments, and always striving for more today.
If you're ready to dive deeper into understanding how such mottos shape extraordinary lives like those of Navy SEAL Michael Ernst or want insights on building resilience through hard work and persistence,
Visit us at NavySeal.com, where we unpack intriguing aspects related to the world's most elite fighting force – The US Navy SEALS! Let's turn 'the only easy day was yesterday' from a mere saying into a lifestyle!